All-On-4 – McKinney, TX
Fewer Implants For a Stronger Smile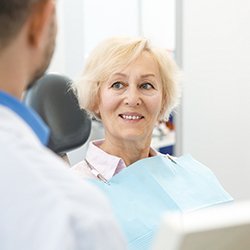 When opting for dental implants, it's not uncommon for a person to assume they'll be a qualified candidate. The truth, however, is that many individuals lack the necessary bone density to adequately support permanent teeth. Fortunately, not all hope is lost thanks to All-On-4 in McKinney. Provided by OakBrook Dental and Orthodontics, our team can renew appearances by rebuilding smiles with fewer dental implants. But that doesn't mean they lack stability! Call our team today to learn why All-On-4 might just be the perfect treatment solution for you.
---
How Do All-On-4 Implants Work?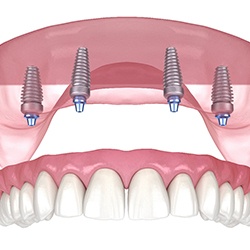 Unlike implant dentures that require between four and eight dental implant posts, All-On-4 uses only four titanium posts. This makes the process easier and less time-consuming. Not to mention, it costs less, which always makes patients happier.
By using the densest areas of your jawbone, our implant dentist in McKinney can pinpoint these surgical sites and place two implants toward the back of the mouth (posterior), angling them at 45 degrees. The other two posts are placed toward the front of the mouth, creating a balanced and fully supportive structure for the customized denture that will sit on top.
---
Am I a Candidate for All-On-4 Implants?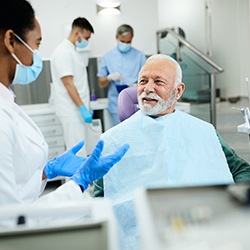 Although jawbone density is not as important as good general oral and overall health, it is necessary for you to have enough structure to support the implant posts and dentures. When meeting with our team for your initial consultation, we will take digital images of your smile as well as perform a visual exam to determine if you're in good enough health and have no additional oral issues to be able to move forward with treatment.
As long as there are no signs of gum disease, we can plan to schedule your All-On-4 procedure.
---
Benefits of All-On-4 Implants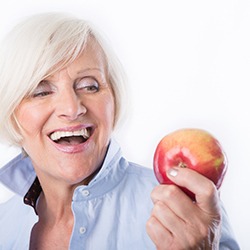 With All-On-4 dental implants, you can expect to enjoy many great results, such as:
Improved confidence in your more youthful appearance
The ability to eat nutrient-rich foods that are good for your oral and overall health
Greater ability to chew and bite down without the embarrassment of gaps in your smile
Improved jawbone stimulation
Prosthetics that can last 30+ years with the right level of care and maintenance
---
All-On-4 vs. Traditional Implants
While it is true that All-On-4 and traditional dental implants in McKinney are quite similar, several significant differences make them each unique:
All-On-4 requires only four dental implant posts as opposed to the 4-8 for a regular implant denture
The cost for All-On-4 can be much less because there are fewer implant posts
Recovery with All-On-4 can be much easier also as a result of fewer surgical sites
It is possible to receive your new teeth the same day as your All-On-4 procedure, whereas an implant denture requires that you wait 3-6 months
There is no need to pursue a bone graft with All-On-4 as opposed to someone who prefers an implant denture