McKinney's Orthodontist Beautifully Straightens Teeth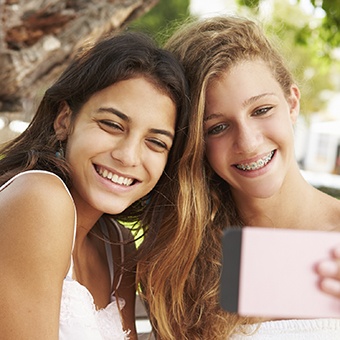 A smile that's free of misalignments and gaps can make a world of difference in your quality of life – not only do patients feel much more self-confident as a result, but their oral function and health tend to improve as well! Here at OakBrook Dental & Orthodontics, you can trust your or your child's teeth in the capable hands of Dr. Nathan Coughlin. As a board-certified orthodontist with plenty of years of experience in this specialty field, there's no one better in the McKinney area to create gorgeous, lasting improvements for smiles in need. Please give us a call today if you'd like to learn more about our available orthodontic services, or if you're ready to schedule the first consultation.
---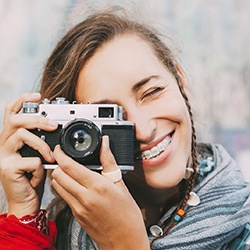 Traditional Orthodontics
You've surely seen those familiar brackets and wires on plenty of smiles in everyday life, especially in school hallways. Traditional braces are a rite of passage for countless children, and their reliable, durable nature is perfect for growing patients and seasoned adults alike. If you have severe orthodontic concerns, this time-tested option is probably the best choice.
As stated above, braces are made up of silver brackets that attach to the surfaces of certain teeth and an orthodontic wire that fits over them through the use of elastics. This wire is what gradually shifts the teeth into their proper alignment, and it will need to be switched out and/or tightened regularly for maximum effectiveness. Younger patients will surely enjoy getting to choose their favorite-colored elastics to adorn their smile throughout the process!
---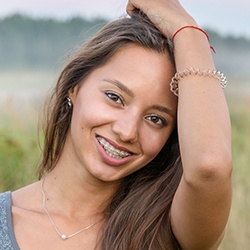 Clear & Ceramic Braces
Many patients shy away from the prospect of orthodontic treatment because they're afraid of trading their natural, beautiful smile for a mouthful of metal. Thankfully, clear and ceramic braces are an excellent alternative to traditional braces in many cases. With this system, Dr. Coughlin uses either clear or tooth-colored components that blend in well with your enamel and create a much more pleasing appearance. Many people won't see your braces at all – they'll just notice the amazing improvements that follow!
---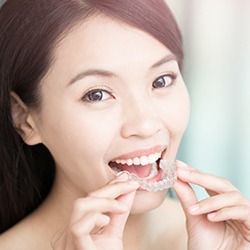 Invisalign
If you're interested in correcting mild to moderate orthodontic problems but don't want to commit to wearing fixed braces for months or even years on end, you're in luck. OakBrook Dental & Orthodontics offers an appearance-friendly alternative called Invisalign! Invisalign does away with the traditional bracket-and-wire system entirely; instead, patients will wear clear, custom-made aligners. Each aligner you're provided with is designed to represent a different stage of orthodontic improvement, and you'll switch between them as directed to achieve the desired effect.
Invisalign aligners are also removable, which means that you can continue to enjoy your regular diet and oral healthcare routine without having to make inconvenient changes.
---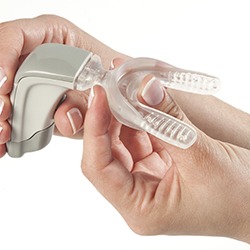 Acceledent
More often than not, the first question patients have about their impending orthodontic treatment is: "How long will this take?" Our doctors understand that you're eager to achieve the beautiful smile improvements you have in mind, which is why we now offer Acceledent. This lightweight and easy-to-use device fits within the mouth and gently vibrates in order to speed up the patient's tooth movement. In fact, studies have shown that the consistent use of Acceledent can decrease the overall span of a patient's treatment by up to 50%!