Porcelain Veneers – McKinney, TX
Create the Flawless Smile of Your Dreams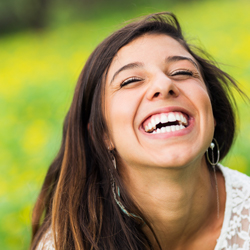 A bright, flawless, perfectly aligned smile is something many patients desire but few are lucky enough to be born with. At OakBrook Dental & Orthodontics, we are proud to provide a wide range of cosmetic dentistry services to help patients create the flawless smiles of their dreams. Porcelain veneers from our McKinney, TX cosmetic dentist are one of the most popular cosmetic dental solutions we provide. These restorations allow our cosmetic dentist in McKinney to transform your smile in just a few short appointments. To learn more, keep reading or call our team to schedule a consultation at our state-of-the-art dental office.
What Are Porcelain Veneers?
Traditional veneers are thin sheaths of dental-grade porcelain that are affixed to the front-facing surfaces of teeth. Prior to placement, veneers closely resemble a fingernail in size and shape. Once they're in position, veneers in McKinney can be used to correct or conceal any number of cosmetic dental flaws including chips, cracks, stains, and gaps.
The Process of Getting Porcelain Veneers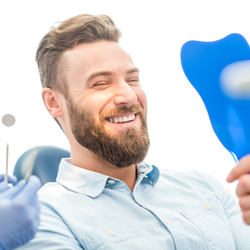 We place porcelain veneers over the course of two appointments in our dental office in McKinney. During the initial visit, we remove a small amount of tooth enamel to prepare teeth. Then, we capture impressions of the smile that will be used by our dental lab to craft a custom veneer. To protect your smile and allow you to get used to the look and feel of your new veneers, we place a temporary. Once we receive the final veneer from our lab, you'll return to our dental office where we'll remove your temporary and exchange it for the flawless, custom veneer.
The Benefits of Porcelain Veneers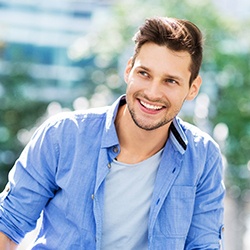 When it comes to cosmetic dentistry, there are a lot of options to pick from. However, veneers continue to be one of the most popular treatments because of the number of benefits they come with, including:
Personalization – Veneers are meticulously crafted to your exact size, shade, and shape specifications.
Lifelike look – Since they look and feel natural, you'll have a hard time telling the difference between your natural teeth and your veneers.
Durability – With proper care, veneers can last for 10+ years.
Stain-resistant – Unlike enamel, the high-quality materials, like porcelain, won't discolor over time.
Quick turnaround – From start to finish, the entire veneers process can be completed in as little as two visits.
Understanding the Cost of Porcelain Veneers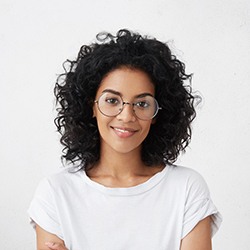 When you invest in porcelain veneers, you aren't just spending money to make your teeth look pretty, although that definitely happens. You are investing in your confidence, which can have a huge impact on your social and professional life, in addition to your mental health and self-esteem. When you feel good about your smile, you are more likely to let it show, which can greatly help your quality of life.
Because we approach each case according to the patient's individual needs and goals, it's difficult to provide a general, one-size-fits-all price for treatment. Instead, we wait until we've had the chance to examine your teeth and talk with you in person to determine your treatment plan and estimate the cost.
Cost VS Cosmetic Dentistry: What's Right For Me?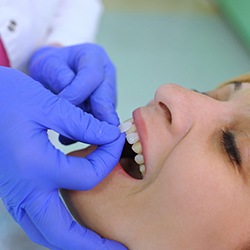 Veneers have the potential to treat many issues, which means that they overlap with other cosmetic treatments. During your consultation, we can help you decide which procedure would best suit your situation. Here are some of the other options for correcting the problems that veneers address:
Braces: If your teeth are severely crooked, overcrowded, or otherwise misaligned, braces may be the better treatment option for you; however, veneers can be utilized to treat mild cases of misaligned teeth for a more uniform, perfectly straight smile.
Teeth Whitening: Most cases of teeth stains and discoloration can be remedied with either at-home or in-office Zoom! Whitening solutions. More severe or stubborn cases may be treated by covering the problematic teeth with veneers.
Direct Bonding: If you are looking for a slightly more affordable way to accomplish what veneers can, you may wish to consider direct bonding. Although not quite as durable as the ceramic veneers, this composite resin can be placed in just one appointment.
Veneers: These durable enamel-imitating sheaths can revitalize your smile for up to 20 years and are beneficial in various scenarios.
How to Make Veneers Affordable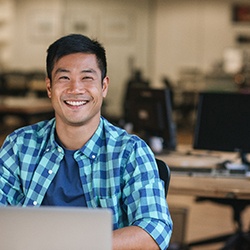 At OakBrook Dental and Orthodontics, we offer several ways to pay for veneers treatment. Aside from our discount for paying the entire cost upfront, we also accept financing through CareCredit, a trusted third-party financier in the dental and medical industries. We also are willing to work out some payment plan in-house one-on-one, either through our 24-month plan or some other arrangement that everyone can agree on. When you meet with us for a consultation, we can go through the financial details and help you find a solution that feels more comfortable in your budget.
Porcelain Veneers Frequently Asked QuestionS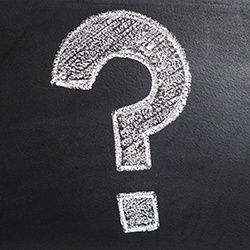 If you have several cosmetic imperfections, veneers are an excellent solution to fix multiple issues using just one procedure. You will enjoy drastic, natural-looking results; however, it's normal to have a few apprehensions before you're ready to commit to the treatment. We'll explain everything during your initial consultation. While you wait for your visit, here are the answers to some of the most common questions patients ask us about veneers to ease your worries.
WHAT ISSUES CAN I FIX WITH VENEERS?
Veneers are versatile because they can instantly hide a variety of aesthetic flaws, such as:
Dark tooth discoloration and stains.
Chips, cracks, or abnormally shaped teeth.
Shorter than average teeth.
Close gaps between teeth.
WILL VENEERS MAKE MY TEETH SENSITIVE?
We may need to remove a small amount of enamel to ensure your veneers sit flush on your teeth. As a result, it's normal to worry about any potential sensitivity, but you don't have anything to fear. You may have some slight discomfort for a couple of days after your procedure, but any sensitivity will not last. In some cases, veneers can help those with a history of tooth sensitivity because they provide an additional layer of protection against hot or cold foods and drinks.
HOW MANY VENEERS WILL I NEED?
A veneer can be bonded to a single tooth, but we often recommend placing them on the front 2, 4, or 8 teeth. This creates a more seamless look between your veneers and your enamel. We'll perform a thorough consultation and recommend how many veneers you'll need during your initial consultation.
HOW LONG WILL MY VENEERS LAST?
Modern veneers are thinner than ever; however, they are durable. It's not uncommon for them to last for a decade or longer with the right aftercare. You can promote their longevity by following a few simple tips:
Use a soft-bristled toothbrush and nonabrasive toothpaste.
Brush your teeth at least twice daily for 2 minutes each session.
Use high-quality dental floss to clean between each tooth daily.
Wear an athletic mouthguard if you play sports.
Don't use your teeth as tools.
Don't chew on inedible objects.
Don't bite or chew overly hard or sticky foods.
Visit your dentist at least twice a year for a cleaning and checkup.
If a veneer breaks or falls off, we can easily replace it to restore your beautiful smile.
HOW MUCH DO VENEERS COST?
There isn't a set fee for veneers because there are several factors that influence the cost, such as the number of teeth you're treating. We'll provide you with an estimate during your initial consultation and discuss the fees associated with your plan. Unfortunately, many dental insurances won't cover the cost of veneers; however, our dental office accepts several payment options to keep your new smile affordable. Besides traditional payment methods, we also accept third-party financing. A member of our team will help you find the solutions you need to achieve the smile of your dreams without draining your wallet.