Dental Implant-Retained Dentures – McKinney, TX
Permanently Bring Back Lost Pearly Whites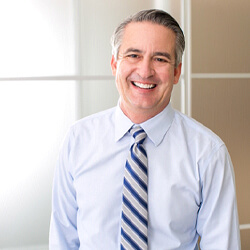 When you replaced your missing teeth with a denture, you were ecstatic at first. As time passed, though, your denture started slipping around, irritating your gums, and even falling out! Not to mention, eating your favorite chewy and crunchy foods was a challenge. Luckily, there's a solution for all of these problems – securing your denture onto dental implants. Dental implant-retained dentures in McKinney, TX are the perfect way to permanently bring back all of your lost pearly whites at the same time with a stable, reliable solution. At OakBrook Dental & Orthodontics, we can even handle the entire treatment process in-house. Contact us today to get started on rebuilding your complete smile!
Why Choose OakBrook Dental & Orthodontics for Dental Implant-Retained Dentures?
Start-to-Finish Dental Implant Care Under One Roof
Evening & Saturday Appointment Times Available
Dental Sedation Offered for Nervous Patients
What Are Dental Implant-Retained Dentures?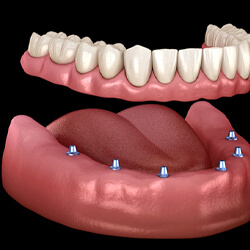 While regular dentures sit on top of the gums, implant dentures are anchored onto a small number of dental implants. These titanium posts are surgically inserted into your jaw, where they serve as replacement tooth roots to create a firm foundation for your new smile.
During your initial consultation, your implant dentist in McKinney will review the two types of implant dentures with you and help you choose the one that will best suit your specific needs and preferences.
Fixed/Permanent Implant Dentures
Relying on an average of four to eight dental implants, a fixed implant denture can only be removed by a dentist. As a result, your new teeth will feel remarkably natural, and you can brush and floss them like they were the teeth you were born with!
Removable Implant Dentures
An implant denture can also be removable if you'd rather be able to take out your prosthetic for throughout cleaning. Removable implant dentures typically only require between two and five implant posts, allowing patients with lower jawbone density to qualify for them.
The Dental Implant-Retained Denture Process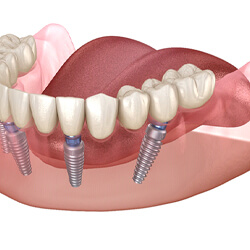 Because our skilled dentists can handle the entire implant denture treatment in one location, you won't need to worry about visiting a separate oral surgeon. Instead, you will:
Meet with our team for a consultation and complete any preparatory procedures that may be necessary.
Undergo dental implant surgery. We numb your mouth, make small incisions in your gums, strategically position the implants within your jawbone, and close your gum tissue.
Spend the next three to six months allowing the dental implants to fuse to your jawbone (a process called osseointegration).
Return to our dental office to have abutments or attachments placed on top of your implants. Then, we can secure your final denture into place.
Am I a Candidate for Dental Implant-Retained Dentures?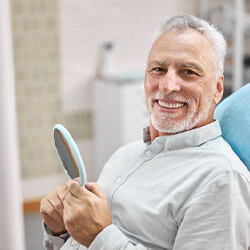 Even if you're not sure whether you're a good candidate for dental implants in McKinney, don't hesitate to schedule a consultation with us! Our dentists can evaluate the state of your mouth and overall health to determine:
Whether you need gum disease therapy or tooth extractions before implants can be placed.
The condition of your overall health, which should be well enough to complete a minor surgical procedure.
Whether you have adequate jawbone density to support dental implants. If not, we may recommend bone grafting.
Benefits of Combining Dentures & Dental Implants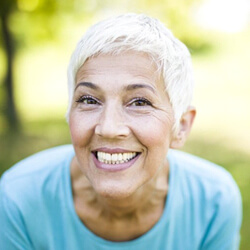 By combining dentures with dental implants, you can enjoy a host of benefits that are impossible with dentures alone. For example, implant dentures:
Allow you to chew your favorite foods without worrying about embarrassing slippage.
Preserve your jawbone to keep it strong and healthy while also maintaining your natural face shape.
Greatly reduce your risk of gum disease.
Have a success rate of more than 95% when placed by a skilled professional.
Can last for over 30 years with the right care and maintenance.