Teeth Whitening – McKinney, TX
Effective, Professional Solutions for Brighter Smiles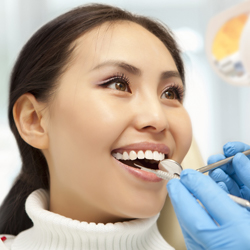 A bright white smile gives you a pulled-together, youthful appearance, and many patients want to whiten their teeth. Unfortunately, the majority of patients who come to OakBrook Dental & Orthodontics for professional teeth whitening have already wasted time and money on store bought whitening products that were ineffective. Before you try DIY teeth whitening hacks or at-home whitening kits from your local pharmacy, give our McKinney dentist a call to schedule a cosmetic dentistry consultation. We'll help you determine the underlying cause of your dental discoloration and create a personalized plan for professional teeth whitening in McKinney, TX that delivers the results you want quickly and comfortably.
How do Teeth Become Discolored?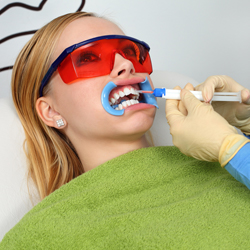 There are a number of reasons why teeth may become discolored, and by determining the underlying causes of tooth staining before we begin treatment, our team is able to offer more predictable teeth whitening results. Some of the most common causes of dental discoloration include:
Consuming dark colored foods and drinks (red wine, coffee, berries)
Aging, excessive tooth enamel wear, and genetically thinner enamel all lead to a yellow tooth color due to the exposure of the dentin layers of teeth
Over consumption of fluoride during dental development can lead to brighter white staining on teeth called fluorosis
Taking tetracycline medications during dental development may lead to dark staining on teeth
Tobacco use can cause teeth to appear yellow, gray, or have darker staining
What Makes Zoom! Different?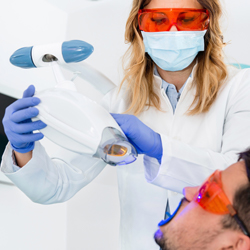 Zoom! teeth whitening gives us the ability to brighten patients' smiles up to ten shades in just about an hour. Unlike store bought teeth whitening products that use low doses of whitening agent and ineffective application methods, Zoom! whitening treatment uses customized doses of professional grade teeth whitening gel to deliver the desired whitening results. The process is simple. We begin by isolating the teeth with rubber shields. Then, we apply a layer of whitening gel. The key difference in Zoom! whitening compared with other treatment options is the activation light. We place the low heat light over the teeth, and it accelerates the chemical teeth whitening process. Every twenty minutes, we will check your progress. Most patients see their desired results after about an hour.
Can I still Whiten at Home?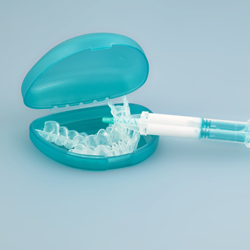 Absolutely. In addition to the fast, effective in-office treatment, Zoom! also has a line of take-home teeth whitening kits. Unlike store bought teeth whiteners, these professional kits include a custom crafted application tray that keeps your whitening gel on the surfaces of teeth where it belongs and seals out saliva. The take-home kit will also include professional doses of whitening gel. You'll be able to receive the same results possible with in-office teeth whitening over the course of two weeks of daily application. You will only need to apply the whitening gel for about 30 minutes a day. This more gradual whitening process, is a great option for patients who have sensitive teeth or gums.
How Long Will My Results Last?
Your in-office and at-home Zoom! whitening results will last for six months, a year, or longer. The longevity of your results is dependent upon a number of factors. To extend the life of your whitening treatment, you'll need to brush and floss regularly, avoid staining foods and drinks, and kick tobacco use to the curb. You can also touch up the results of your teeth whitening treatment periodically with a professional at-home teeth whitening kit. We recommend patients take a "whitening weekend" a few times each year. It doesn't actually have to be a weekend. You simply apply two to three touch up applications using your custom whitening trays and our professional whitening gel to extend your results.