Clear & Ceramic Braces – McKinney, TX
The Discreet Alternative to Metal Braces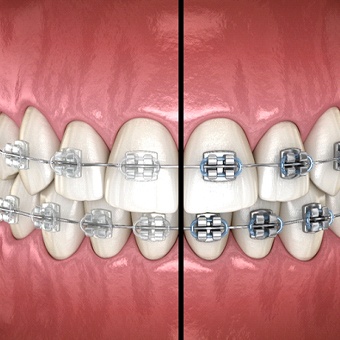 Orthodontic issues impact patients of all ages. Whether you're an adult or a teen, the thought of having a noticeable, metal oral appliance in your mouth can turn you off of the idea of fixing these problems and improving your oral health. Fortunately, with clear braces in McKinney, you can achieve a beautifully aligned grin without drawing attention to the appliance itself. That's because it's made from materials that blend in with the rest of your smile instead of sticking out like a sore thumb. For more information on clear braces, you can schedule a consultation to discuss clear and ceramic braces in McKinney, TX with your orthodontist, Dr. Coughlin, today by contacting our dental office.
What are Ceramic Braces?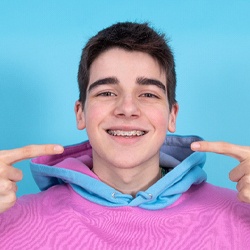 The primary difference between ceramic braces and traditional metal braces is that they're made from materials that are less noticeable and blend in with your smile. While the wires are still crafted from metal, the clear brackets make them significantly more discreet. They're able to fix a variety of orthodontic problems, including bite problems, crowded teeth, slightly rotated teeth, misalignment, and gaps between teeth.
The best way to find out whether ceramic braces in McKinney are for you is to schedule an appointment with our team. We'll examine your smile and discuss the benefits of each of our orthodontic treatments with you.
The Benefits of Clear Braces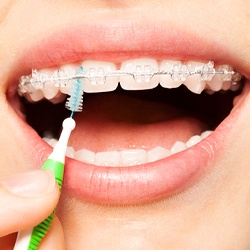 The most obvious benefit of clear braces that makes them so popular among teens and adults alike is that they're significantly more discreet than traditional metal braces. Instead of reflective and noticeable metal brackets, they're made from a clear, ceramic material, which means they're also durable. Some other advantages that our patients are able to enjoy when they choose ceramic braces include:
Ceramic brackets don't change the color of your tooth enamel.
They're easy to remove after treatment.
They can effectively treat more advanced orthodontic problems.
More comfortable than traditional braces.
Life With Clear Braces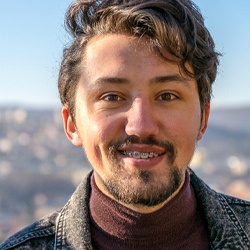 Living with clear braces is similar to traditional braces. It's still vital to keep up with your oral health to avoid oral health problems while you're undergoing treatment. When you first get them placed, we'll provide you with some maintenance instructions, including:
Be sure to brush carefully and remove all debris from your wires and brackets.
Floss between each of your teeth and the metal. You can use orthodontic dental floss or a water flosser to make it easier.
Keep up with your regular appointments with Dr. Coughlin to stay on track with your treatment timeline.
If you have any questions or concerns while you're undergoing treatment, don't hesitate to contact our dental office. Our team will be more than happy to address any concerns you have and make sure that your treatment goes as smoothly as possible.