Sedation Dentistry – McKinney, TX
Help Nervous Patients Feel Rigth at Home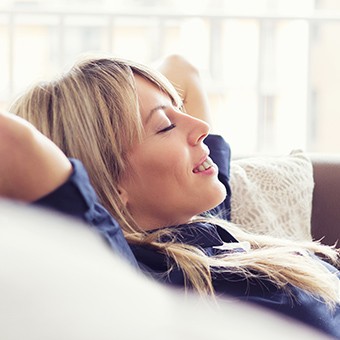 At OakBrook Dental & Orthodontics, helping patients feel relaxed and right at home is an essential part of our approach. That's why we provide a comfortable dental office setting, friendly team members, a kid-friendly area with video games and movies, and much more. However, our doctors understand that even these efforts aren't always enough to cure feelings of fear and anxiety. If you suffer from dental phobia, please let us know so that we can address the problem with sedation dentistry at your next visit. Sedation dentistry in McKinney, TX does a good job of lessening those frustrating emotions and helping you (or your child) achieve a genuine sense of calm throughout the treatment process.
Has it been too long since your last checkup? Trust in our team to help you through the process smoothly. Please contact our McKinney dental office today if you'd like to learn more, or if you're ready to schedule the first appointment.
---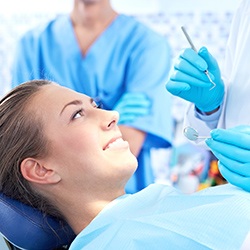 Oral Conscious Dental Sedation
Like the name suggests, oral conscious sedation features the use of oral medication that is prescribed by our dental team. The patient will be directed to take it at a certain time before their first appointment. As a result, they should enter a deep state of relaxation without completely falling asleep. When choosing oral conscious sedation, make sure to arrange for an escort to bring you both to and from our McKinney location.
---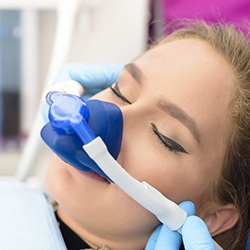 Nitrous Oxide Dental Sedation
Nitrous oxide ("laughing gas") is a mild form of sedation that's completely safe for children and adults alike. After the patient has gotten comfortable in the treatment chair, we'll attach a mask over their nose and start administering the gas. They should feel calmer and more content after a few minutes of breathing it in. Then, when the procedure is over and the mask is removed, the patient should recover just as quickly and will be able to return to their regular routine with hardly any downtime.
---
IV Sedation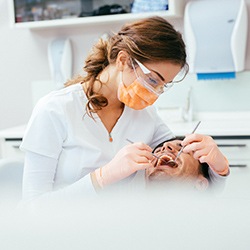 To help patients who are suffering from moderate or severe dental anxiety, there is IV sedation in McKinney. Unlike nitrous oxide or oral conscious sedation methods, the use of an IV ensures the medication is delivered to the bloodstream immediately, causing it to take effect quickly. When using this type of sedation, we can ensure all patients remain safe, comfortable, and completely at ease, as members of our dental team will monitor all vital signs throughout treatment.
What is IV Sedation?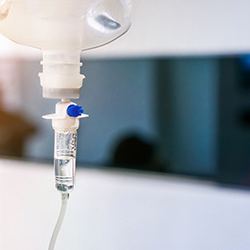 IV sedation in McKinney is the strongest type of conscious sedation that our team offers, helping patients achieve a sort of "twilight sleep." This means that while you're technically conscious enough to respond to our team's commands, it's likely that you won't remember much of anything about the experience once you've recovered.
The medication is delivered intravenously, which allows our team to adjust the dosage as needed to ensure the patient's complete safety and comfort. Like with oral conscious sedation, you will need someone to transport you and watch over you until the sedation wears off.
Who is a Good Candidate for IV Sedation?
Before moving forward with any form of sedation dentistry, it is necessary that you meet with a sedation dentist in McKinney. It is during this visit that we will go over your medical history as well as any medications you're currently taking. It's important that we have the information, as there could be complications that occur if IV sedation is taken with certain medications.
Most patients will benefit from this type of treatment, especially if you suffer from:
A sensitive or strong gag reflex
Intense dental anxiety that keeps you from visiting the dentist's office
Serious dental problems that require multiple procedures
The inability to become numb with other forms of sedation
The Benefits of IV Sedation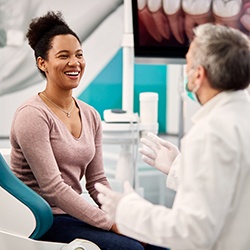 Using IV sedation has its benefits. Although you may not be a fan of needles, the reality is that this method of care will put you in a calming and relaxed state while visiting the dentist. Not only will it allow you to remain at ease during your visit, but you'll finally be able to receive the dental care you need and deserve.
Some additional benefits that come with IV sedation include:
The inability to remember much from your appointment
Fast-acting medication that helps you become relaxed quicker
The ability to embrace optimal oral health year after year
Being monitored by qualified staff who are watching your vitals while you receive IV sedation