Oral Cancer Screenings – McKinney, TX
Saving Lives with Oral Cancer Screenings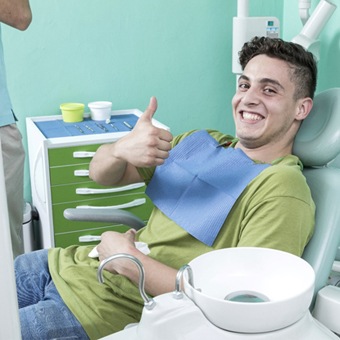 Although not as common as other cancers like breast or prostate cancer, oral cancer is deadly. This year, 53,000 people are expected to be newly diagnosed with oral cancer. Out of them, only a little more than half will likely survive to five years. At OakBrook Dental & Orthodontics, we are doing our part to change that. At your routine checkup appointment twice every year, our dentists perform simple oral cancer screenings at our McKinney, TX dental office as your first line of detection for this disease.
What are the signs and symptoms of oral cancer?
To the untrained eye, the early signs of oral cancer can be challenging to spot, especially when looking into your own mouth and having an incomplete view. Some of the symptoms of oral cancer include the following:
Difficulty or pain in chewing or swallowing.
Lip or mouth sores that don't heal after two weeks.
Numbness in the tongue.
White, red, or speckled patches of tissue.
Thickened areas of tissue.
Lumps or bumps in the mouth tissue, jaw, or neck.
If you do notice any of these symptoms, contact us or your doctor right away for an evaluation and testing.
Why is getting a regular oral cancer screening important?
The mortality rate for oral cancer is so high not because it is difficult to diagnose, but rather because it is often found too late for effective treatment. As oral cancer advances, it can metastasize to other parts of the body and become much harder to overcome. On the other hand, those whose oral cancer is discovered and treated during the early stages of development increase their likelihood of survival to up to 90 percent. By having a regular oral cancer screening with us, you can catch oral cancer sooner rather than later, improving your odds of beating it.
What happens during an oral cancer screening?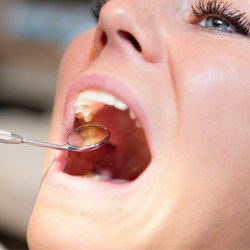 The process of an oral cancer screening is straightforward. Your dentist looks for the signs of oral cancer in a visual and tactile exam. First, they inspect the inside of your mouth, particularly the gums, tongue, and soft and hard tissues. They may need to use gauze to hold and move your tongue out of the way so that they get a clearer view of the back of your mouth, where oral cancer often manifests its symptoms. Then, they gently feel your jaw and neck for unusual lumps or bumps. It's that simple! If your dentist does find something, they will refer you to your doctor, who can perform additional tests.
At OakBrook Dental & Orthodontics, we genuinely care about our patients and helping them maintain their well-being and oral health. If it's been a while since your last checkup and you need an oral cancer screening, contact our McKinney dental office for an appointment today!