Dental Crowns – McKinney, TX
Repair a Damaged Tooth, Improve Your Oral Health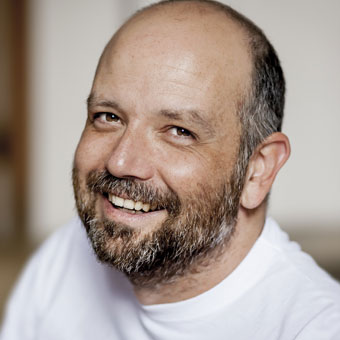 If you have a tooth that is severely decayed, you need a restorative solution that blends form and function. Dental crowns do just that! Our team is proud to provide expert restorative care for patients who are struggling with a decayed, cracked, or otherwise damaged tooth. If you would like to learn more about dental crowns in McKinney – from what the process is like to the benefits of this tooth-restoring treatment – keep reading or schedule a consultation with us.
Why Choose OakBrook Dental and Orthodontics for Dental Crowns?
Top-Rated Dental Office in McKinney
Dental Insurance Welcome and Flexible Financing Available
Convenient Hours, Including Saturdays
What is a Dental Crown?
A dental crown is a tooth-shaped restoration that is custom-made according to the specific dimensions of the affected tooth and securely bonded on top with special cement. Most often, they are used to:
Restore a weak tooth.
Restore a decayed tooth when there is not enough room for a filling.
Hold together pieces of a broken tooth.
Improve the occlusion of misaligned teeth.
Improve the appearance of a cosmetically damaged front tooth.
Most crowns are made from ceramic, porcelain-fused-to-metal, gold, or metal alloys. The material that is right for you depends mostly on where in the mouth the affected tooth is located as well as your personal preference. Natural-looking ceramic is best for teeth in the front of the smile, while a sturdy gold crown may be the ideal choice for the teeth that incur more chewing force in the back of the bite.
Why is getting a regular oral cancer screening important?
The mortality rate for oral cancer is so high not because it is difficult to diagnose, but rather because it is often found too late for effective treatment. As oral cancer advances, it can metastasize to other parts of the body and become much harder to overcome. On the other hand, those whose oral cancer is discovered and treated during the early stages of development increase their likelihood of survival to up to 90 percent. By having a regular oral cancer screening with us, you can catch oral cancer sooner rather than later, improving your odds of beating it.
The Dental Crown Process?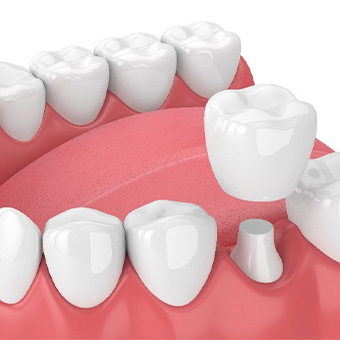 The very first step of the process is the initial exam, which is where one of our talented McKinney dentists will determine if a dental crown is the best way to restore the health, function, and look of your smile. If it is, then we will intervene with the necessary treatment before reshaping the tooth to make room for the new restoration. We will carefully remove the enamel so that the base of the tooth is wider than the top. Then, we will take impressions and cover the tooth with a temporary crown while the permanent one is being made. This process usually takes a few weeks. However, the moment we receive it from the dental lab, we will schedule your next appointment so we can secure it in place!
The Benefits of Getting a Dental Crown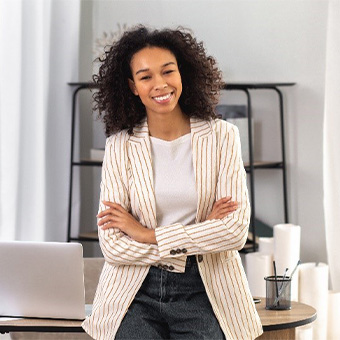 Getting a dental crown to restore a damaged tooth offers numerous benefits, including:
The materials come in numerous enamel-like shades, ensuring the results look natural.
It restores the function of your tooth.
The entire process can be completed in two visits or less.
No complicated oral hygiene – take care of your dental crown like you do your natural teeth!
The results can last for 10+ years with the right best practices in place.
If you have a severely damaged or decayed tooth, we invite you to discuss your options in restorative dentistry with our team. Everyone deserves a healthy, complete smile – so go ahead and request an appointment today!