Dental Checkups & Teeth Cleanings – McKinney, TX
Maintaining Healthy, Happy Smiles
One thing stands true in dentistry: every mouth is different and should be treated as such. When you choose to visit our dental office, you can be sure that you'll receive the personalized care that your smile needs—even when you just need dental checkups and teeth cleanings in McKinney, TX.
Everyone should receive dental care every six months—including a comprehensive checkup or deep professional cleaning. In fact, every preventive care appointment will include both of these things.
In the case that you're a high-risk dental patient (maybe you have gum disease or you're currently pregnant). During these dental checkups, your dentist in McKinney will work right alongside you to examine your oral health and treat any abnormalities that may arise in it's earliest stages.
Plus, when your teeth are professionally cleaned, you'll feel much better. Our hygienist will meticulously remove dental plaque, bacteria, and tartar from between each tooth and below the gum line.
---
The Parts of a Preventive Dental Care Appointment
Examinations & Screenings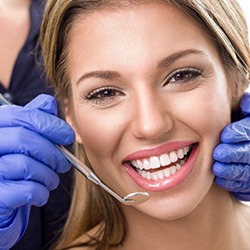 The beginning of your appointment will start with dental x-rays and screenings. Once we've capture a few dental x-rays of your mouth, the dentist will carefully examine your smile visually and manually. Your dentist will screen your smile for warning signs of common oral health conditions including:
Tooth decay
Gum disease
Chronic teeth grinding (bruxism)
Temporomandibular joint (TMJ) dysfunction
Oral cancer
Professional Teeth Cleanings
As mentioned above, you'll have your teeth cleaned by one of our skilled dental hygienists. This helps to remove the leftover bacteria, plaque and tartar from your smile—even if you're a diligent brusher and flosser. Your professional cleaning will ensure there is no undetected plaque or tartar buildup, helping to prevent serious dental problems like decay and gum disease.
Personalized Dental Treatment Plans
You must have a plan to keep your smile strong and stable over the years—addressing each concern as it arises in a timely manner. Each time we meet with a patient, we will sit with them one on one to discuss any oral health concerns we unveiled during their appointment, carefully explain all the possible solutions to address those concerns and create a plan to achieve and maintain their healthiest smiles going forward.
When you choose to visit our dental office for your preventive care visits, you will save much more time and money in the long run by keeping your mouth healthy from the very beginning. In addition to diagnosing common oral health concerns, many overall health conditions have oral symptoms, and dentists may be able to diagnose these conditions in early stages. Call our dental office today to schedule your next visit.