Dental Implants – McKinney, TX
State-of-the-Art, Life-Changing Tooth Replacement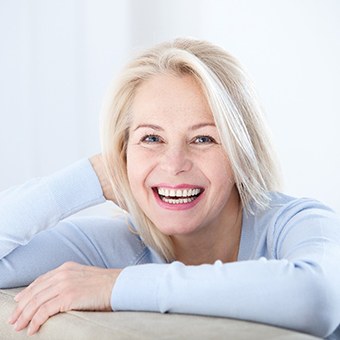 Are you ready to rebuild missing teeth and start showing your smile off with pride again? Here at OakBrook Dental & Orthodontics, our doctors would love to help you. There are several tooth replacement options available to patients today, but none that are as long-lasting, as functional, or as seamlessly natural-looking as dental implants. In fact, our very own Dr. Manhvu Nguyen is a dental implant specialist who can oversee your whole procedure from beginning to end right here in our McKinney dental office, with no extra traveling required!
We look forward to meeting your smile's needs and even exceeding your expectations. Please contact us today if you have any further questions about dental implants in McKinney, TX, or if you're ready to schedule your consultation.
Why Choose OakBrook Dental & Orthodontics for Dental Implants?
Entire Dental Implant Treatment Provided Under One Roof
Flexible Dental Payment Plans Offered
Evening & Saturday Appointments Available
---
What Are Dental Implants?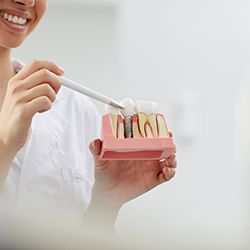 A dental implant is a small titanium post that is surgically placed in your jawbone. Because titanium is biocompatible, it fuses to your jawbone permanently to act as an artificial tooth root for any number of replacement teeth. Surgical placement is minimally invasive and quick, but your implant will need at least three to six months to fully integrate into your jawbone. Afterward, one of our dentists will place a natural-looking dental crown (or bridge or denture for patients who are missing several or all of their teeth) to complete your implant and restore your smile back to its full health, look, and function.
---
The 4-Step Dental Implant Process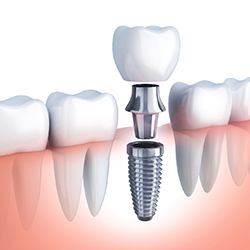 Getting new dental implants is a multi-step process that will spread over several appointments. The entire start-to-finish procedure can take months or even a year to complete. While much of this depends on the complexity of your case, the team at OakBrook Dental & Orthodontics wants you to understand that it is a process that cannot be rushed. While each patient is different in their own individual needs, the same steps must be completed to ensure a safe, successful, and long-lasting prosthetic. As you continue to learn more about these permanent tooth replacement solutions, our team believes it is important that you understand how dental implants work in McKinney.
Initial Dental Implant Consultation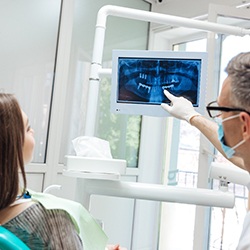 The first step is to schedule an initial consultation with a member of our team. During this visit, we will go over your eligibility by examining your teeth, gum health, and jawbone density. Using state-of-the-art technology and equipment, we will closely look at these areas to determine if there are problems that need to be addressed. Should we find signs of tooth decay, gum disease, or jawbone deterioration, we will recommend bone grafting, periodontal therapy, or tooth extraction. Although necessary to ensure a healthier environment for your dental implants in McKinney, these procedures will add to your overall timeline.
Dental Implant Surgery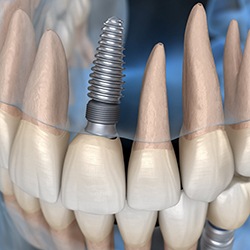 Instead of being referred to an outside specialist for your dental implant surgery, our team at OakBrook Dental & Orthodontics is pleased to bring in Dr. Nguyen, who is a highly trained implant dentist in McKinney. His expertise and knowledge will ensure your procedure is a success. After administering local anesthesia to numb your mouth, he will make one or more small incisions in the gums before making a small hole in your jawbone. After carefully placing and angling the implant to ensure maximum support, he will close the gum tissue and send you home to begin the recovery process.
Dental Implant Osseointegration/Abutment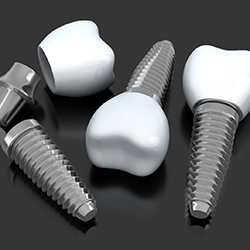 Over the course of several months (typically between three and six), osseointegration will occur that involves the bone, implants, and tissues fusing. This will create a stable foundation for your customized restoration. Once you are fully healed, you will return to our office to receive your metal abutment(s), which are tiny connector appliances that attach the implants to the customized dental crown, implant bridge, or implant denture when placed.
Delivery of Dental Implant Restorations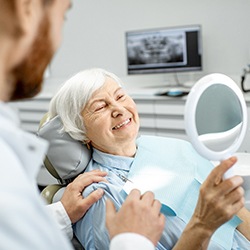 The last step of the dental implant process is receiving your new restoration. Because dental implants are one of the most versatile tooth replacement solutions available, it is possible to replace one single tooth or even an entire row of missing teeth. Created by lab technicians based on the specifications provided by our team, your crown, bridge, or denture will blend in beautifully with the rest of your smile. Matching in color, size, and shape, it will be virtually impossible for anyone to tell the difference between your real and artificial teeth. Once it is secured in place, we will give your teeth a final look before giving you the green light to start enjoying your new smile.
---
Benefits of Dental Implants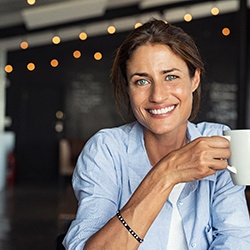 Dental implants offer more benefits than any other tooth replacement option. If you use them to rebuild your smile, here are just a few of the advantages you can expect:
Longevity. Dental implants have the potential to last for 30 years or longer — perhaps even a lifetime. Other treatment options may last for just 10 – 15 years.
A strong bite. Dental implants replace the entire structure of missing teeth, which gives them the security and stability they need to stand up to almost any food.
A successful outcome. Over 95 percent of dental implant cases are successful!
Protection for your remaining natural teeth. A fixed bridge requires that we modify the structure of your remaining natural teeth, but that step isn't necessary with dental implants. They allow us to preserve healthy dentition.
Bone preservation. Because implants bond with the bone around them, they prevent the jawbone from losing mass and density.
How Many Teeth Can Dental Implants Replace?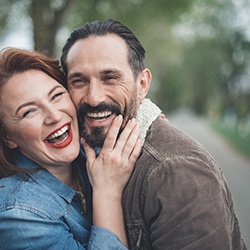 Dental implants can replace everything from a single missing tooth to an entire arch of teeth in the upper or lower jaw. The method of placement and restoration will depend on the number of pearly whites being replaced, but the end result is the same: a confident, secure, beautiful-looking smile.
A single tooth can be replaced with a dental implant that is restored by a single dental crown. The implant is placed into the area where the missing tooth's root was. Here, it promotes the growth of bone tissue and fuses together with the jawbone. The dental crown is bonded securely on top of the implant abutment after a months-long recovery period. The crown can be ceramic, metal, or gold, according to where in the mouth the tooth is located as well as your personal preference.
If multiple teeth have been lost but several healthy ones still remain in the gum line, an implant-supported bridge or partial denture can provide a sturdy solution. Implants stabilize the jawbone to prevent the loss of additional teeth.
Implant Dentures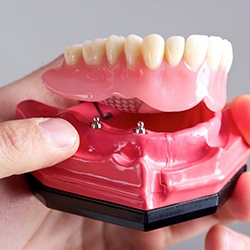 Many patients who have lost an entire arch of teeth in the upper or lower jaw will deal with a loose or ill-fitting denture at some point -- unless their prosthetic is secured with dental implants. Your implant dentist can use a certain number of implants, sometimes as few as four to six, to stabilize a complete upper or lower denture. This method ensures that the teeth fit properly and do not slip or slide around at inopportune moments. Implant dentures look natural, feel great, and can last for many years with proper maintenance.
Benefits of Dental Implants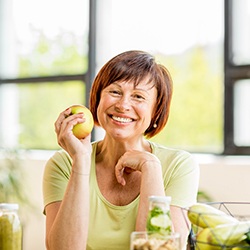 The advantages of an implant-supported option for missing teeth are multiple and varied. Some of the most significant benefits of dental implants are listed below -- which would you enjoy most?
A comprehensive solution for improved stability and security
Eat, speak, and smile with confidence
Dental implants look and feel natural
A stabilized jawbone promotes better oral and overall health
Can correct prior dental misalignments
Dental implants can last for decades with proper care
---
Who Dental Implants Can Help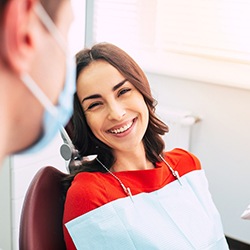 Whether you are missing one tooth, several teeth, or an entire arch of teeth, dental implants may be an appropriate treatment solution for you.
Missing One Tooth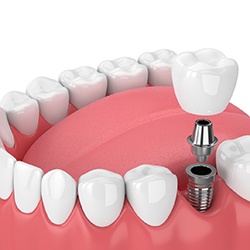 For patients who are missing a single tooth, we place just one implant below the gum line. Then, we attach a single, custom-made crown to the implant to replace the visible portion of the missing tooth.
Missing Multiple Teeth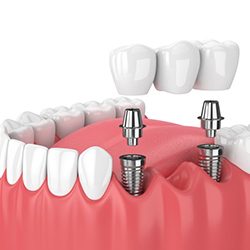 If you are missing multiple teeth in a row, we may recommend an implant-supported bridge. This type of prosthesis is supported by two dental implants and consists of two crowns and one or more artificial teeth between the crowns.
Missing All Teeth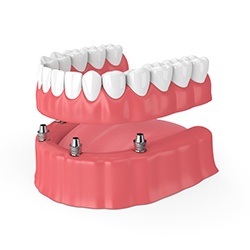 Patients who are missing all of their teeth are often candidates for an implant denture. In most cases, we can use just four to six implants to provide the needed support for the prosthesis. An implant denture may be removable or permanently fixed in the mouth, depending on your needs and preferences.
---
Understanding the Cost of Dental Implants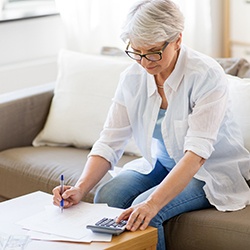 There are several factors that contribute to the total cost of dental implants, including:
How much preliminary dental work is required. Many patients require tooth extractions or bone grafts prior to receiving implants.
The surgical placement of the implants. The cost of this procedure depends heavily on the number of implants needed.
Placement of the abutments. Abutments are the small pieces that attach the implants to the restorations. In most cases, placing the abutments requires a separate, minimally invasive surgery.
The type and nature of the restoration. The size of the restoration and the material used to create it will affect your treatment's total cost.
When you visit us for your consultation, we'll help you crunch some numbers and explore avenues for fitting your treatment into your budget. Although implants may seem expensive, you can rest assured that your new smile is a worthwhile investment. Your treatment can protect your oral health and provide you with decades of strong, confident smiles!
Types of Dental Implants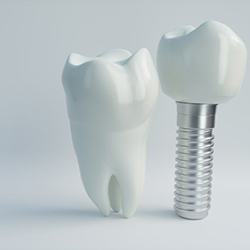 We have different types of affordable implants for various patterns of tooth loss. If you're missing a single tooth, we will use an implant-supported crown to complete your smile. For multiple consecutive missing teeth, we will recommend an implant bridge. And, if you're missing all or most of your teeth, an implant denture will usually be your best option. As you can imagine, typically the more teeth you're missing, the higher in price your treatment will be.
What Are the Stages of Dental Implant Treatment?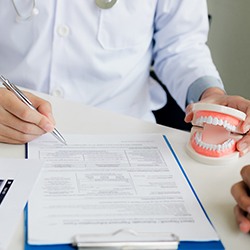 There are multiple stages of the implant process and each of them incur their own cost. If you have gum disease or any other oral health problems, they must be treated before getting dental implants. Then, you'll have your implant surgery, followed by a healing period called osseointegration. After, you'll come back into our office for the placement of abutments. Lastly, your implant dentist will take impressions of your new smile before custom making your restorations. The cost of each of these stages will depend on your specific smile.
Are Dental Implants Worth the Investment?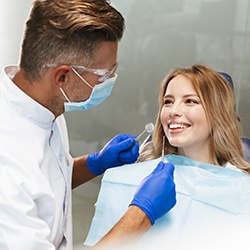 Dental implants tend to come with a higher price tag than other replacements, which is why you may be wondering about whether or not they're worth the money. However, implants provide a unique set of benefits that you won't be able to find with other options. They have the potential to last a lifetime, which can even save you money from additional dental care in the long run. Also, dental implants are the only replacement that stimulates your jawbone to prevent it from deteriorating after tooth loss. Plus, above all else, they look, feel, and function just like your natural smile for a strong, beautiful, and healthy set of teeth.
Does My Dental Insurance Cover Dental Implants?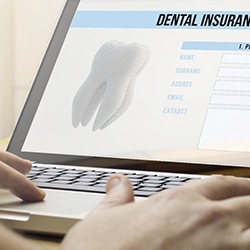 Typically, dental insurance plans do not cover dental implants, however they may be able to help out with some of the costs of certain aspects of the process. Preexisting dental problems that need to be treated prior to getting dental implants like gum disease can be covered. Additionally, your initial consultation and part of your restorations may be covered—it will all depend on your insurance plan. Our friendly team will help you maximize your insurance benefits while minimizing your out-of-pocket costs.