State-of-the-Art McKinney Dental Implants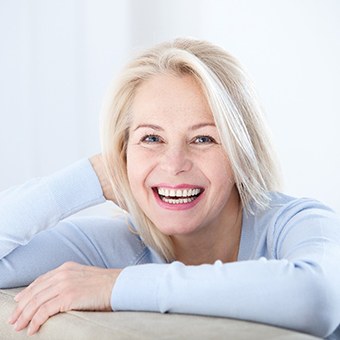 Are you ready to rebuild missing teeth and start showing your smile off with pride again? Here at OakBrook Dental & Orthodontics, our doctors would love to help you. There are several reconstructive options available to patients today, but none that are as long-lasting, as functional, or as seamlessly natural-looking as dental implants. In fact, Dr. Nguyen is an implant specialist who can oversee your entire procedure from beginning to end right here in our McKinney location, with no extra traveling required!
We look forward to meeting your smile's needs and even exceeding your expectations. Please contact us today if you have any further questions about dental implants, or if you're ready to schedule the first consultation.
---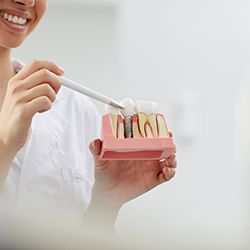 What Happens During Dental Implant Placement?
Getting new dental implants is a multi-step process that will spread over several appointments. First, the patient will need to undergo an initial visit with our team so that we can determine that this is the best path of treatment for your unique circumstances. We'll review your overall oral health, your jawbone density, and other factors that can make a big difference in the success of the procedure.
Once you and your dentists feel confident that this service is the right match, it will be time for the surgical insertion of the implants into the patient's jawbone. While many general dentists have to refer to an outside surgeon for this phase, we're proud to have bought the specialist to you instead here in McKinney for maximum convenience. Dr. Nguyen will be sure to carefully oversee every moment of treatment in order to ensure successful and precise results.
Following this procedure, your body's natural inclinations will take over in a months-long process known as osseointegration. Your natural tissue will slowly form around the biocompatible implant, creating a solid and long-lasting foundation that can support a dental restoration. Once this is complete, it's time to get your new teeth!
---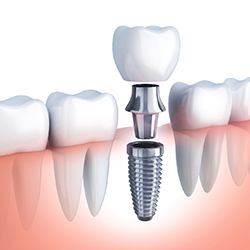 How Do You Restore Dental Implants?
Several options are available for restoring dental implants, and each patient's needs are different. We will help you find the one that works best for you.
Metal-free dental crowns are perfect for when a patient only has a single implant that needs to be restored. The new crown will be crafted from high-quality, beautifully lifelike dental ceramic. It will also fit in place between the natural teeth without requiring them to be significantly altered in any way, which is best for your oral health.
When multiple teeth in a row have been lost, an implant-retained bridge may be the right option. Instead of being anchored in place with dental crowns like a traditional bridge, our team will use dental implants placed on either side of the gap.
Last but not least, an implant-retained denture can provide patients with the quality, natural-looking teeth they need at a more affordable price. These dentures are designed to fix over multiple implants at once, and they can be either permanent or removable in nature.