State-of-the-Art McKinney Dental Implants
Are you ready to rebuild missing teeth and start showing your smile off with pride again? Here at OakBrook Dental & Orthodontics, our doctors would love to help you. There are several reconstructive options available to patients today, but none that are as long-lasting, as functional, or as seamlessly natural-looking as dental implants. In fact, Dr. Nguyen is an implant specialist who can oversee your entire procedure from beginning to end right here in our McKinney location, with no extra traveling required!
We look forward to meeting your smile's needs and even exceeding your expectations. Please contact us today if you have any further questions about dental implants, or if you're ready to schedule the first consultation.
---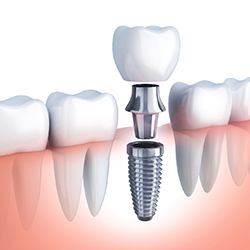 Benefits of Dental Implants
Dental implants offer more benefits than any other tooth replacement option. If you use them to rebuild your smile, here are just a few of the advantages you can expect:
Longevity. Dental implants have the potential to last for 30 years or longer — perhaps even a lifetime. Other treatment options may last for just 10 – 15 years.
A strong bite. Dental implants replace the entire structure of missing teeth, which gives them the security and stability they need to stand up to almost any food.
A successful outcome. Over 95 percent of dental implant cases are successful!
Protection for your remaining natural teeth. A fixed bridge requires that we modify the structure of your remaining natural teeth, but that step isn't necessary with dental implants. They allow us to preserve healthy dentition.
Bone preservation. Because implants bond with the bone around them, they prevent the jawbone from losing mass and density.
---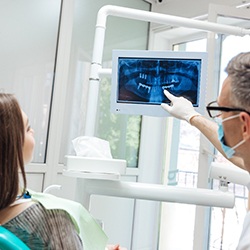 Indications for Dental Implants
Whether you are missing one tooth, several teeth, or an entire arch of teeth, dental implants may be an appropriate treatment solution for you.
Missing a Single Tooth
For patients who are missing a single tooth, we place just one implant below the gum line. Then, we attach a single, custom-made crown to the implant to replace the visible portion of the missing tooth.
Missing Multiple Teeth
If you are missing multiple teeth in a row, we may recommend an implant-supported bridge. This type of prosthesis is supported by two dental implants and consists of two crowns and one or more artificial teeth between the crowns.
Missing All Teeth
Patients who are missing all of their teeth are often candidates for an implant-supported denture. In most cases, we can use just four to six implants to provide the needed support for the prosthesis. An implant-supported denture may be removable or permanently fixed in the mouth.
---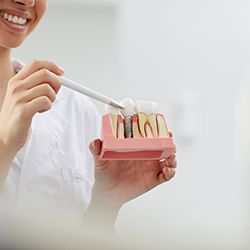 What Happens During Dental Implant Placement?
Getting new dental implants is a multi-step process that will spread over several appointments. First, the patient will need to undergo an initial visit with our team so that we can determine that this is the best path of treatment for your unique circumstances. We'll review your overall oral health, your jawbone density, and other factors that can make a big difference in the success of the procedure.
Once you and your dentists feel confident that this service is the right match, it will be time for the surgical insertion of the implants into the patient's jawbone. While many general dentists have to refer to an outside surgeon for this phase, we're proud to have bought the specialist to you instead here in McKinney for maximum convenience. Dr. Nguyen will be sure to carefully oversee every moment of treatment in order to ensure successful and precise results.
Following this procedure, your body's natural inclinations will take over in a months-long process known as osseointegration. Your natural tissue will slowly form around the biocompatible implant, creating a solid and long-lasting foundation that can support a dental restoration. Once this is complete, it's time to get your new teeth!
---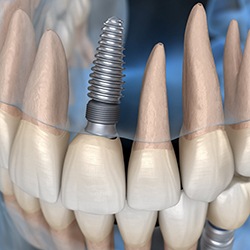 Understanding the Cost of Dental Implants
There are several factors that contribute to the total cost of dental implants, including:
How much preliminary dental work is required. Many patients require extractions or bone grafts prior to receiving implants.
The surgical placement of the implants. The cost of this procedure depends heavily on the number of implants needed.
Placement of the abutments. Abutments are the small pieces that attach the implants to the restorations. In most cases, placing the abutments requires a separate, minimally invasive surgery.
The type and nature of the restoration. The size of the restoration and the material used to create it will affect your treatment's total cost.
When you visit us for your consultation, we'll help you crunch some numbers and explore avenues for fitting your treatment into your budget. Although implants may seem expensive, you can rest assured that your new smile is a worthwhile investment. Your treatment can protect your oral health and provide you with decades of strong, confident smiles!