Dental Implants – McKinney, TX
State-of-the-Art, Life-Changing Tooth Replacement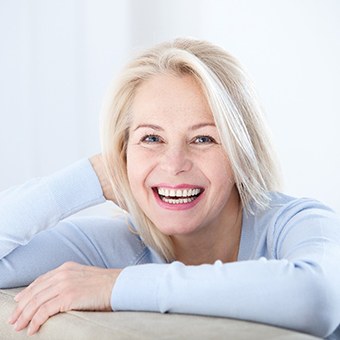 Are you ready to rebuild missing teeth and start showing your smile off with pride again? Here at OakBrook Dental & Orthodontics, our doctors would love to help you. There are several tooth replacement options available to patients today, but none that are as long-lasting, as functional, or as seamlessly natural-looking as dental implants. In fact, our very own Dr. Manhvu Nguyen is a dental implant specialist who can oversee your whole procedure from beginning to end right here in our McKinney dental office, with no extra traveling required!
We look forward to meeting your smile's needs and even exceeding your expectations. Please contact us today if you have any further questions about dental implants in McKinney, TX, or if you're ready to schedule your consultation.
Why Choose OakBrook Dental & Orthodontics for Dental Implants?
Entire Dental Implant Treatment Provided Under One Roof
Flexible Dental Payment Plans Offered
Evening & Saturday Appointments Available
---
What Are Dental Implants?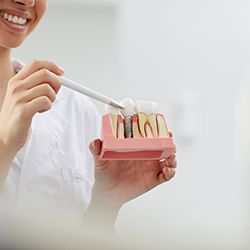 A dental implant is a small titanium post that is surgically placed in your jawbone. Because titanium is biocompatible, it fuses to your jawbone permanently to act as an artificial tooth root for any number of replacement teeth. Surgical placement is minimally invasive and quick, but your implant will need at least three to six months to fully integrate into your jawbone. Afterward, one of our dentists will place a natural-looking dental crown (or bridge or denture for patients who are missing several or all of their teeth) to complete your implant and restore your smile back to its full health, look, and function.
---
The 4-Step Dental Implant Process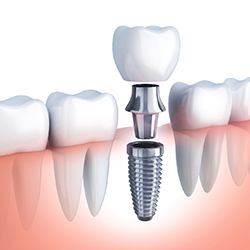 Getting new dental implants is a multi-step process that will spread over several appointments. The entire start-to-finish procedure can take months or even a year to complete. While much of this depends on the complexity of your case, the team at OakBrook Dental & Orthodontics wants you to understand that it is a process that cannot be rushed. While each patient is different in their own individual needs, the same steps must be completed to ensure a safe, successful, and long-lasting prosthetic. As you continue to learn more about these permanent tooth replacement solutions, our team believes it is important that you understand how dental implants work in McKinney.
Initial Dental Implant Consultation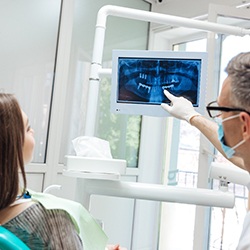 The first step is to schedule an initial consultation with a member of our team. During this visit, we will go over your eligibility by examining your teeth, gum health, and jawbone density. Using state-of-the-art technology and equipment, we will closely look at these areas to determine if there are problems that need to be addressed. Should we find signs of tooth decay, gum disease, or jawbone deterioration, we will recommend bone grafting, periodontal therapy, or tooth extraction. Although necessary to ensure a healthier environment for your dental implants in McKinney, these procedures will add to your overall timeline.
Dental Implant Surgery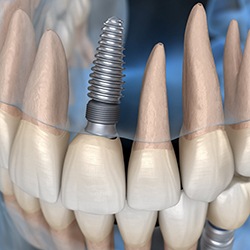 Instead of being referred to an outside specialist for your dental implant surgery, our team at OakBrook Dental & Orthodontics is pleased to bring in Dr. Nguyen, who is a highly trained implant dentist in McKinney. His expertise and knowledge will ensure your procedure is a success. After administering local anesthesia to numb your mouth, he will make one or more small incisions in the gums before making a small hole in your jawbone. After carefully placing and angling the implant to ensure maximum support, he will close the gum tissue and send you home to begin the recovery process.
Dental Implant Osseointegration/Abutment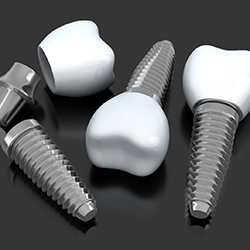 Over the course of several months (typically between three and six), osseointegration will occur that involves the bone, implants, and tissues fusing. This will create a stable foundation for your customized restoration. Once you are fully healed, you will return to our dental office to receive your metal abutment(s), which are tiny connector appliances that attach the implants to the customized dental crown, implant bridge, or implant denture when placed.
Delivery of Dental Implant Restorations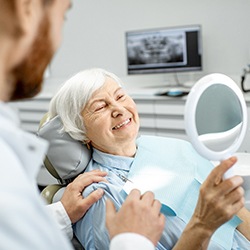 The last step of the dental implant process is receiving your new restoration. Because dental implants are one of the most versatile tooth replacement solutions available, it is possible to replace one single tooth or even an entire row of missing teeth. Created by lab technicians based on the specifications provided by our team, your crown, bridge, or denture will blend in beautifully with the rest of your smile. Matching in color, size, and shape, it will be virtually impossible for anyone to tell the difference between your real and artificial teeth. Once it is secured in place, we will give your teeth a final look before giving you the green light to start enjoying your new smile.
---
Benefits of Dental Implants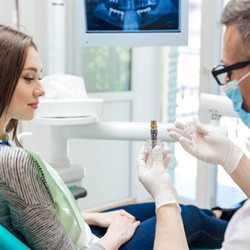 If you don't already know, dental implants are the gold standard of tooth replacement. They're so effective that dentists place over 50,000 of them yearly! This success, in turn, stems from implant treatment's perks. The benefits of dental implants simply exceed those of dentures or dental bridges. As such, the former restorations dramatically improve your quality of life. Should you like to learn more, our office will happily tell you. Just keep reading or call us for the details.
Day-to-Day Benefits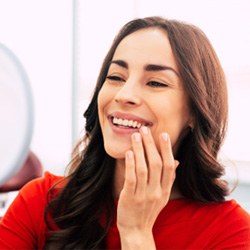 You'll soon notice implants' day-to-day benefits when you first get them. The most common of these are the following:
A Full, Beautiful Smile – Implants are capped with dental crowns, so they're enamel-colored and blend seamlessly with your other teeth. Consequently, you can expect a beautiful, fully-restored smile following placement surgery.
Confident Mood – When you lose some of your teeth, it's easy to feel anxious and self-conscious. Things change, though, once you get implants. By restoring your smile, these new teeth will boost your confidence and self-esteem.
Easier Eating – Implants gradually fuse with your jawbone, becoming part of your jaw as a result. Besides keeping your new teeth steady, though, that fusion process also restores your bite force. Implants thus return your ability to eat your favorite foods!
Low-Maintenance Results – Unlike dentures or bridges, implants can be maintained like natural teeth. In other words, brush them twice daily, floss them once daily, and rinse them with mouthwash often.
Health Benefits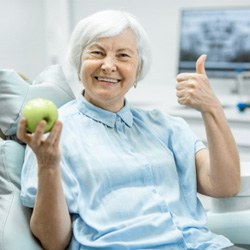 As it happens, implants also offer health-related benefits. In particular, such perks typically include:
Improved Oral Health – Remember, implants are easier to clean than dentures or bridges. That fact means treatment leads to a reduced risk of oral health issues.
Stronger Jawbone – When you lose teeth, your jawbone erodes from a lack of stimulus. However, implants prevent this erosion by maintaining your jaw's bone density.
Better Nutrition – Because implants restore your bite force, they let you eat a wider variety of foods. You're more likely to get the nutrients your body needs from there.
No Discomfort – Implants are placed directly in the jawbone, so they don't sit on your gums. As such, they don't cause sensitivity or gum sores like other restorations.
Long-term Benefits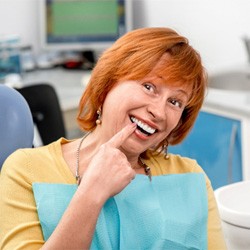 Lastly, implants come with long-term benefits that make them truly worthwhile. Consider, for instance, those listed below:
High Success – In general, implants succeed in the long run. Even ten years after the initial surgery, their overall success rate is over 95%!
Long-Lasting Results – The average dental implant can already last 15-20 years. With proper care, though, an implant's lifespan can reach over thirty years!
Cost-Effectiveness – Given their lifespan (see above), implants rarely need replacement. They thus save you time and money, as they don't require expensive follow-up care. In contrast, dentures and bridges (which only last five to seven years) need repair and replacement often.
---
Who Dental Implants Can Help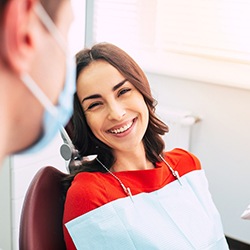 Dental implants can replace everything from a single missing tooth to an entire arch of teeth in the upper or lower jaw. The method of placement and restoration will depend on the number of pearly whites being replaced, but the end result is the same: a confident, secure, beautiful-looking smile.
Missing a Single Tooth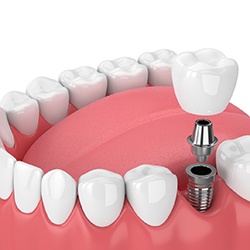 A single tooth can be replaced with a dental implant that is restored by a single dental crown. The implant is placed into the area where the missing tooth's root was. Here, it promotes the growth of bone tissue and fuses together with the jawbone. The dental crown is bonded securely on top of the implant abutment after a months-long recovery period. The crown can be ceramic, metal, or gold, according to where in the mouth the tooth is located as well as your personal preference.
Missing Multiple Teeth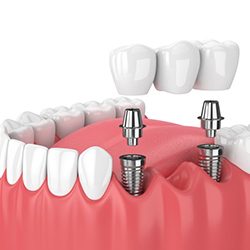 If you are missing multiple teeth in a row, we may recommend an implant-supported bridge. This type of prosthesis is supported by two dental implants and consists of two crowns and one or more artificial teeth between the crowns.
Missing All Teeth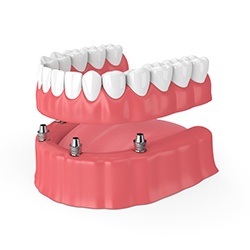 Many patients who have lost an entire arch of teeth in the upper or lower jaw will deal with a loose or ill-fitting denture at some point -- unless their prosthetic is secured with dental implants. Your implant dentist can use a certain number of implants, sometimes as few as four to six, to stabilize a complete upper or lower denture. This method ensures that the teeth fit properly and do not slip or slide around at inopportune moments. Implant dentures look natural, feel great, and can last for many years with proper maintenance.
Learn More About Implant Dentures
Missing All Teeth with Low Jawbone Density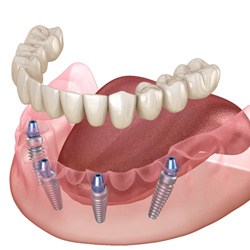 It's essential that your jawbone has adequate density to support an implant denture. Unfortunately, since jawbone deterioration is a natural side-effect of tooth loss, this can be a problem for many patients facing severe tooth loss. Fortunately, even if you don't qualify for implant dentures, it's likely that All-On-4 dental implants can help you achieve the strong, complete smile you deserve! This innovative technique uses four strategically placed dental implants to secure a full denture in place. Not only does this often allow patients to skip preliminary bone grafting procedures, but we're often able to place the new restoration on the same day as the surgery!
---
Understanding the Cost of Dental Implants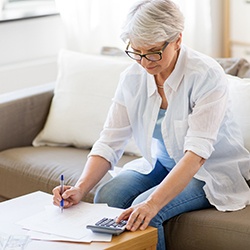 When you visit OakBrook Dental & Orthodontics for your consultation, we'll help you crunch some numbers and explore avenues for fitting your treatment into your budget. Although implants may seem expensive, you can rest assured that your new smile is a worthwhile investment. Your treatment can protect your oral health and provide you with decades of strong, confident smiles! Our dental team will be happy to discuss the cost of dental implants in McKinney and find ways to help you maximize your dental insurance benefits as well as look at alternative payment methods to help you avoid high out-of-pocket expenses.
Preliminary Treatments & Dental Implant Surgery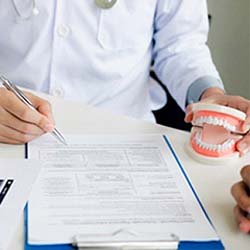 Part of the cost estimate for your treatment is the preliminary procedures you might need before receiving dental implants in McKinney. These may include bone grafting, periodontal therapy, tooth extraction, or a sinus lift. No matter which treatments you need, if any, you can expect they'll be added to the total cost.
Your dental implant surgery will also be factored in. Fortunately, instead of paying a separate fee to an outside implant dentist in McKinney, you have the ability to stay under one roof for the complete procedure. This is helpful when preparing to pay for your treatment.
The Parts of Your Dental Implant
During your initial consultation, we will also go over the different parts of your implants, all of which make up various components of your cost breakdown.
How many implants you will need – The number of dental implants you will need will affect the price of your treatment. For example, the number need for an implant denture will require a much higher expense than replacing only one tooth.
The materials used – The most common materials are titanium and zirconia because they fuse well with bone.
The type of restoration – Much like the number of implants you will need, the type of restoration you receive will also impact the price. A single dental crown is much less than a full implant denture.
The brand – There are many different brands of dental implants available. While we have the say as to which manufacturer we plan to use, you can expect a thorough discussion during your consultation as to why we choose a certain brand. Higher quality products tend to lead to longer-lasting results.
How Dental Implants Can Save You Money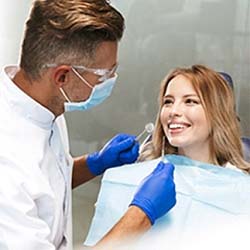 Dental implants tend to come with a higher price tag than other replacements, which is why you may be wondering about whether or not they're worth the money. However, implants provide a unique set of benefits that you won't be able to find with other options. They have the potential to last a lifetime, which can even save you money from additional dental care in the long run. Also, dental implants are the only replacement that stimulates your jawbone to prevent it from deteriorating after tooth loss. Plus, above all else, they look, feel, and function just like your natural smile for a strong, beautiful, and healthy set of teeth.
But if you really want to learn how they'll be able to save you in the long run, consider the following:
You won't need to buy dental adhesives
You won't be required to purchase specialized cleaning supplies that require you to soak your prosthetic
You'll avoid frequent adjustments and replacements that are often required of dentures and dental bridges (every 5-10 years)
You'll minimize your risk for systemic issues often caused by tooth loss (i.e., heart disease, diabetes, and osteoporosis)
Does My Dental Insurance Cover Dental Implants?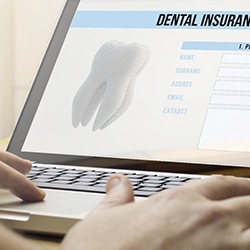 Typically, dental insurance plans do not cover dental implants, however, they may be able to help out with some of the costs of certain aspects of the process. Preexisting dental problems that need to be treated prior to getting dental implants like gum disease can be covered. Additionally, your initial consultation and part of your restorations may be covered—it will all depend on your insurance plan. Our friendly team will help you maximize your insurance benefits while minimizing your out-of-pocket costs.
Making Dental Implants Affordable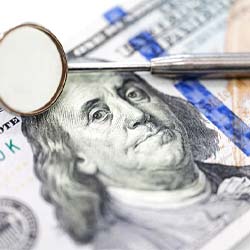 Additionally, if you are still concerned about the affordability of dental implants, you'll be pleased to learn that our team at OakBrook Dental & Orthodontics offers two alternative ways to pay for your treatment:
In-House Payment Plan: We can spread your payments out across 24 months or less with no added interest.
CareCredit: If you need a flexible financing solution that offers little to zero interest, you can always apply for CareCredit.
---
Advanced Dental Implant Procedures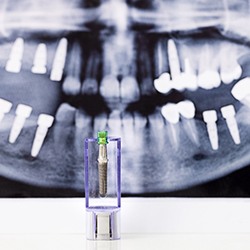 Dental implants have an incredibly high success rate, but not everyone is automatically a good candidate for implant treatment. If you have been missing teeth for quite some time, your jawbone may have gradually deteriorated. Insufficient jawbone depth is a common factor in implant failure. Thankfully, an advanced dental implant procedure in McKinney can help rebuild your jawbone and pave the way to successfully restoring your smile with dental implants. Keep reading to learn more about bone grafts and sinus lifts at Oakbrook Dental & Orthodontics or contact us to schedule an appointment.
Bone Grafting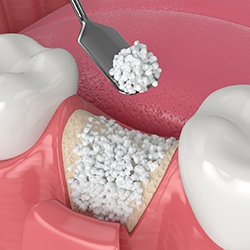 If you have a weakened jawbone from years of missing teeth, you may be able to benefit from bone grafting in McKinney. This advanced procedure can enhance the thickness of your jawbone by transferring a small piece of bone to the weakened area of your jaw.
The new bone material will stimulate your body to produce new bone cells in the affected area, thereby slowly building your jawbone back to full strength and thickness.
The small piece of bone or grafting material used in this procedure can come from:
The patient's hip bone or rear jawbone
A separate human donor
An animal source
Synthetic grafting material
A bone grafting procedure at Oakbrook Dental & Orthodontics typically requires 3-6 months to fully heal. Once your jawbone is back to full strength, you will be ready to begin dental implant treatment.
Sinus Lifts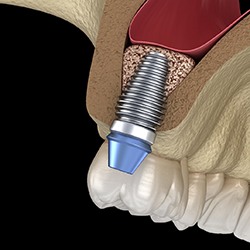 If you are missing a tooth in the upper arch, you may not have enough bone near the maxillary sinuses to support dental implants. If this is the case for you, a sinus lift in McKinney can make room for new bone to be added to the area near your molars and premolars.
Sinus lift surgery begins with a small incision in the gum tissue where your back teeth used to be. Next, our dentist will open a small window in the underlying bone and gently lift the sinus membrane up and away from your jaw. Grafting material is then placed in the hole to stimulate new bone growth. Finally, they will stitch up your gums and the healing process will begin. You'll be ready to receive your dental implants in McKinney after 4-12 months.
---
Dental Implant Frequently Asked Questions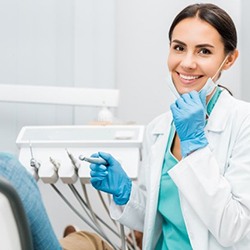 Even after reading all of the information about dental implants above, you might still have a few questions regarding the details of the treatment. While our team will be happy to address any of your concerns during your appointment, we've also included a handful of frequently asked questions and their answers below. After all, we want you to be well-informed about your new smile!
Does Getting Dental Implants Hurt?
Many patients are actually pleasantly surprised by how comfortable the dental implant procedure is! Before we begin, your implant dentist in McKinney will administer a local anesthetic to numb your mouth. You may also be given sedation, which suppresses your body's ability to register pain. To top it all off, the jawbone doesn't contain very many nerves that are capable of sensing pain.
While dental implant surgery itself shouldn't hurt, your mouth will most likely feel sore for a few days afterward. Take any pain medication that we have prescribed you as directed. Cold compresses can also help to alleviate discomfort. If you experience pain that intensifies after two or three days instead of subsiding, call us immediately.
How Long Does It Take to Recover from Dental Implant Surgery?
We typically advise that our patients take two or three days off from work after dental implant surgery in order to focus on healing. You can expect bleeding to slow down and stop after the first couple of days, while swelling and soreness should stop after three to four days. For the first week or so, avoid strenuous physical exercise, as it could prolong the healing process.
Even after you feel fully recovered, note that it may take up to six months for your implants to finish integrating with your jawbone.
Do I Need a Bone Graft Before Getting Dental Implants?
As time passes after tooth loss, the jawbone begins to atrophy, as the roots of the natural teeth no longer stimulate the bone through the forces of biting and chewing. Eventually, the jaw may not have enough healthy bone density to support dental implants in McKinney. Luckily, bone grafting can help.
Bone grafting entails transplanting a piece of bone tissue (which may be synthetic or from a donor) onto the weakened section of the jawbone. After a few months, the bone graft will strengthen the jawbone, allowing it to provide a strong foundation for your new pearly whites.
Do Dental Implants Feel Natural?
Yes! Due to the biocompatible natural of the implant posts, your body actually thinks that the roots of your natural teeth are back. That's why osseointegration is able to occur. Once this process is complete, your implants should feel exactly the same as any of your natural teeth. If you do feel any sensations in the area near your implants, it comes from the surrounding gum tissue, not the implant itself.
---
Dental Implant Post-Op Instructions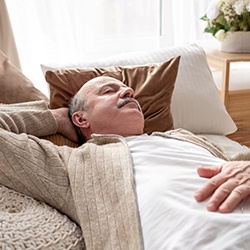 The entire dental implant placement process can be completed at our practice. After your procedure, you will be given specific post-op instructions to help you recover quickly and comfortably. In the meantime, here is what you can expect after your surgery and what kind of post-op instructions you can anticipate to ensure a rapid recovery.
What to Do Directly After Dental Implant Surgery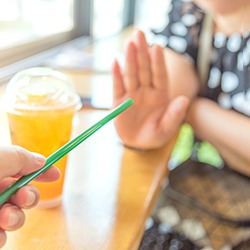 You may not be looking forward to the procedure itself, but when you take all of the right steps, you can make the healing process quick and tolerable. Your biggest priority should be to leave the forming blood clot(s) untouched so that the healing isn't interrupted. Be sure that you:
Do not spit. Use tissues or swallow saliva.
Do not use drinking straws.
Do not smoke for at least the first day.
Do your best to keep your fingers and tongue away from the surgical site(s).
Common Side-Effects When Recovering from Dental Implant Placement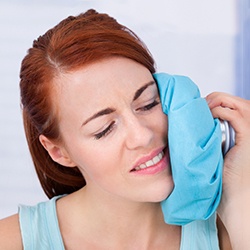 It's normal for you to experience some side effects in the first few days after getting your dental implants, but they are generally mild. Here are some of the most common:
Bleeding: Intermittent bleeding is normal right after surgery. This can be lessened with the use of gauze and light pressure. This should subside after a few days.
Swelling: Swelling is often present for the first 72 hours after surgery, but sometimes it can last over a week. Cold compresses can help to reduce this.
Soreness: It's normal for the area to feel sore for a few days, but this can be managed by taking recommended pain relievers as directed by your dentist.
Your Diet After Dental Implant Surgery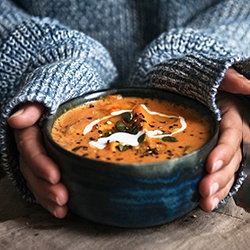 You must be mindful of what you're eating after your procedure. Here are some soft foods that you should stock up on ahead of time:
Mashed potatoes
Yogurt
Ice cream
Pudding
Soup
Scrambled eggs
Pasta
Once your discomfort subsides, you can start to transition back to your normal diet. Remember that you should avoid chewing directly on the implant site until it completely heals. You want to give your restoration the best possible chance of success!
Post-Op Health & Oral Hygiene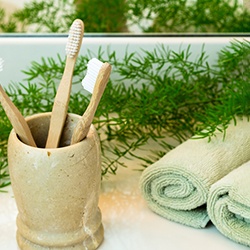 It's very important that you keep your smile clean after your surgery. This will help your implant to integrate with your jawbone quickly. Here are some helpful oral hygiene tips:
Brush your teeth the day after your surgery but be especially careful near the surgical site.
Rinse your mouth with saltwater.
Use your prescription mouth rinse if you were provided with one.
Stay away from mouthwashes that contain high levels of alcohol.
What to Do After Your New Teeth Are Attached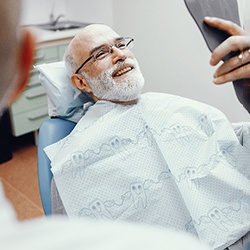 Now, the hard part is over! When your dental crown, bridge, or denture is attached to your implant(s), you may experience some sensitivity at first, but this is usually easy to control with over-the-counter pain relievers. You shouldn't experience any additional bleeding, inflammation, or extensive recovery.
---
Maintaining & Caring For Your Dental Implants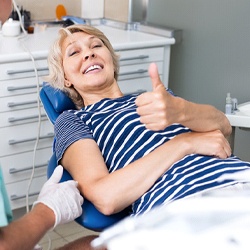 Dental implants can last for the rest of your life, however this is only if they are properly maintained. Without protection even durable dental implants can fail. That's why we've included some easy yet effective steps you should take for dental implants care in McKinney. Read on to learn more!
Make Oral Hygiene a Priority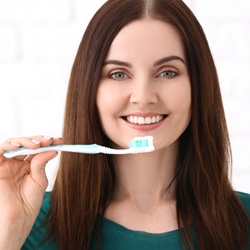 One of the best ways to extend the lifespan of your implants is to maintain a great oral healthcare routine. Be sure to brush twice a day for two minutes each session. Additionally, floss once a day to remove plaque and food debris from between your implants. You can also use mouthwash to clean areas of your mouth that are difficult to reach. Just make sure that you're using a non-alcoholic mouthwash – products like Listerine and Scope dry out the mouth.
Eat a Healthy Diet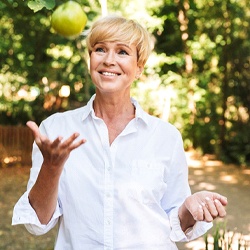 One of the benefits of dental implants is that they allow you to eat all your favorite foods! You can eat virtually anything, which is why we recommend consuming a healthy, full diet. That said, foods that are extra sugary, acidic, sticky, or hard will put your dental implants at risk of damage due to injury or infection. Do your best not to overindulge in these items. Instead, choose a diet that is rich in calcium and vitamin D put keep your gums and jaw strong.
Break Bad Habits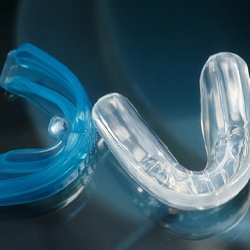 Bad habits and poor lifestyle choices can shorten the lifespan of your dentures. If you smoke or use tobacco products, it's time to quit! Tobacco slows down healing while also promoting infection, which can cause your dental implants in McKinney to fail. Additionally, do not use your teeth for anything other than smiling, eating, and speaking. It may be tempting to use your newly complete and strong smile to open packages or bottles, however this habit can easily cause damage to your implant restorations. Also, avoid chewing on non-food items like pens, ice cubs, or anything that may damage your smile – you can chew on sugarless gum instead!
Protect Your Dental Implants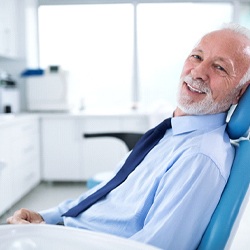 If you play sports or participate in physical activity, you must wear a mouthguard to protect your dental implants. We offer custom made oral appliances that reduce the risk of dental damage, plus they are comfortable to wear. Additionally, those who suffer from bruxism (teeth grinding) should wear a nightguard to prevent unnecessary wear on their implant restorations. Over time, teeth grinding and the pressure it causes can weaken dental implants and break restorations.
Schedule Regular Dental Checkups
At-home maintenance is vital, however visits to your implant dentist in McKinney are irreplaceable. Be sure to see your dentist twice a year for routine checkups and cleanings. These checkups allow your dentist to catch problems early, preventing your implants from failing due to severe infection or damage in the future. Additionally, the cleaning portion of your visit gives your professional hygienist a chance to remove plaque and tartar that you couldn't clean away on your own. These appointments are easy ways to keep your smile healthy, strong, and beautiful in the future.