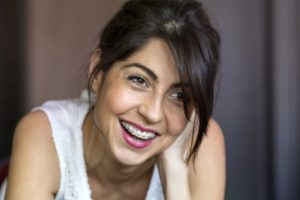 It's unfortunate, but many patients hold the belief that they cannot get orthodontic treatment because they've reached a certain age. This may have come from the association with teenagers that braces, and other orthodontic treatments usually have. However, orthodontics has been catering more and more to adults over the years who are trying to fix their poor bites and crooked smiles. This not only gives patients a more beautiful smile, but a healthier one as well.
Today, we'll be summarizing what your options are to help you hone your decision. This way, you'll be more informed during your consultation with your orthodontist in McKinney.
Traditional Braces
You're probably most familiar with traditional braces because of how long they've been around. If not, braces are a collection of silver brackets that attach to the surfaces of your teeth. An orthodontic wire is threaded through all of them and held in place through the use of many small rubber elastics. The wire is the driving force behind your realignment.
For patients who have severe misalignment or bite problems, traditional braces are likely the best orthodontic option.
Clear and Ceramic Braces
These braces are very similar to traditional braces in terms of their function. They still utilize brackets, a wire, and elastics to realign teeth. However, there is one key difference that is ideal for those trying to maintain their image.
All the components used in ceramic braces are either clear or tooth-colored, allowing them to seamlessly blend in with your teeth. This option is perfect for those willing to spend a little more without sacrificing their image or the effectiveness of their orthodontic treatment.
Invisalign
Invisalign in McKinney is significantly different from traditional orthodontics for several reasons. The process of realignment is done through clear acrylic aligners that are custom-fitted for your teeth. After you and your orthodontist in McKinney complete your consultation, they'll have a series of clear aligners made and shipped from the Invisalign lab. Each pair represents a new stage in your treatment.
By wearing these aligners for at least 20 to 22 hours per day, your teeth will slowly shift into a straighter position. Invisalign is ideal for those trying to solve mild to moderate misalignment without changing their diet, brushing habits, or overall image.
Acceledent: For Faster Treatments
This small, unique, and easy-to-use device is designed to speed up your orthodontic treatment. The lightweight mouthguard fits around your top arch and gently vibrates. Studies have shown that use of the Acceledent device has helped decrease the amount of time patients spend on orthodontic treatment by 50 percent.
When it comes to straighter teeth, there's no reason to wait or settle. Schedule an appointment with your orthodontist in McKinney today!
About the Author
Dr. Nathan Coughlin earned his Doctor of Dental Surgery degree from the University of Southern California School of Dentistry. Afterwards, he pursued additional training to become a Diplomate of Orthodontics and today, he's board-certified. To learn more about his orthodontic treatments or practice, contact him at (469) 526-4040 or visit his website.