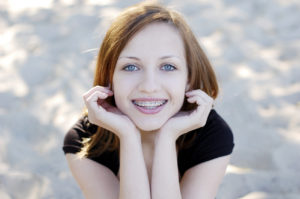 Are you ready to visit your orthodontist in McKinney to help your child achieve a straight smile? That is great! You will make a long-term investment in their confidence and their oral health by aligning their teeth and bite. During their initial consultation for braces, your orthodontist will discuss the different phases of treatment. Although multi-phased treatment plans were not widely used in the past, they now hold a commonplace in orthodontics. Depending on your child's exact needs, they may benefit from Phase 1 or Phase 2 orthodontics.

What is Phase 1 Orthodontics?
Typically, Phase 1 orthodontics is used for patients who are still growing and have not had all their permanent teeth erupt. It acts as a type of early intervention by detecting issues with tooth or jaw development that could cause a serious problem if it is not corrected before they are finished growing. As a result, it will reduce the need for an invasive Phase 2 treatment later in life.
The goal of Phase 1 is to help the jaw develop correctly to accommodate all their permanent teeth while improving their bite. With early intervention key to its success, it is best for children to have their first orthodontic consultation around the age of 7.
What is Phase 2 Orthodontics?
Phase 2 orthodontics is generally used for teens and adults. Its focus involves moving each tooth into its ideal location to create healthy and functional smiles that are also aesthetically pleasing. In many cases, if you have previously undergone Phase 1 treatment, the second phase will be much less invasive and aggressive.
In the past, it was not common for Phase 1 to be used on children unless they had extensive issues that needed to be corrected. Now, many orthodontists are recommending it because it provides more predictable and lasting results through early intervention. Overall, it lessens the need for an invasive treatment later in life, such as the extraction of permanent teeth. In addition, it can help to shorten the treatment time of Phase 2 because the issues that need to be corrected will be less severe.
Which Phase Does My Child Need?
Your orthodontist will perform an initial consultation to create a customized treatment plan for your child. They will make records and monitor your child's teeth over time to determine the best approach the help them achieve a healthy, beautiful smile.
Invest in Orthodontics Today!
A straight, healthy smile is one of the best gifts you can give your child. If they have not had their first consultation, do not wait. Schedule an appointment today.
About Oakbrook Dental & Orthodontics
At Oakbrook Dental & Orthodontics, we strive to create generations of healthy smiles. In addition to general care, we offer orthodontic solutions for the entire family. Not only do we provide traditional braces, but Invisalign in McKinney as well. If you or your child need braces, contact our office today to schedule your first visit. We look forward to creating a straight smile.