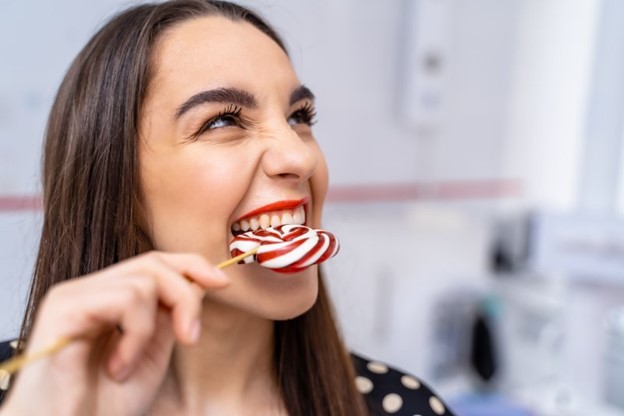 When it comes to oral care, brushing and flossing is the first thing that comes to mind for most people. But another big component of oral hygiene is avoiding a dental emergency! That said, it's helpful to be mindful of what you're putting in your mouth, food, and non-food alike. Here are some of the things that your emergency dentist would never put in their mouth and why these items are potentially able to cause a painful dental emergency.
Which Foods Should I Avoid Eating?
There are certain foods out there that can cause many problems for your mouth, including:
Hard candies – Your mouth is exposed to these candies for a longer period, which means more sugar is delivered to your teeth. They can also chip or crack your teeth!
Lemons – Even though they're a fruit, lemons are highly acidic and can cause enamel erosion and a pH imbalance inside of your mouth.
Potato chips – Chips might be a tasty snack, but they're high in both starches and sugars which can lead to enamel erosion.
Ice cubes – Ice cubes are meant for cooling drinks, not chewing! Biting into them is an easy way to fracture your teeth.
What Non-Food Items Should I Never Put in My Mouth?
You should avoid putting these non-food items in your mouth:
Bottle caps – Both metal and plastic bottle caps pose a threat if you try to remove them with your teeth.
Fingernails – Biting your fingernails isn't just unsanitary; it can also flatten the edges of your front teeth and create cracks in your enamel that cause hypersensitivity.
Pens, pencils, and office supplies – These items are often riddled with germs that can easily spread throughout your body once they enter your mouth.
Keys – You shouldn't use your teeth to hold your keys if your hands are full! This can transfer germs to your mouth and potentially chip or crack your teeth.
Jewelry – Facial piercings and jewelry have the potential to injure your teeth, cheeks, lips, and even your taste buds.
Cigarettes – Smoking is notoriously bad for your oral health, and regularly smoking cigarettes can lead to some serious health problems including oral cancer.
Other people's toothbrushes – This is an easy way to get sick! Sharing toothbrushes can certainly spread bacteria and expedite all sorts of problems.
If your dentist wouldn't put a certain food or object in their mouth, it probably means that it's an oral health hazard! That said, following their example is a surefire way to protect your smile and prevent needless dental emergencies.
About the Practice
OakBrook Dental & Orthodontics proudly serves patients and families in the McKinney, TX area under the leadership of five incredible specialists: Dr. Nathan Coughlin, Dr. Manhvu Nguyen, Dr. Tae You, Dr. Vinhson Nguyen, and Dr. Stephanie Weng! Together they combine several years of experience and expertise to provide all their patients with an elite level of dental care. They are pleased to offer many available services, including emergency dentistry. If you have any questions about the article or would like to schedule an appointment, feel free to visit the practice's website or give them a call at (469) 526-4040.