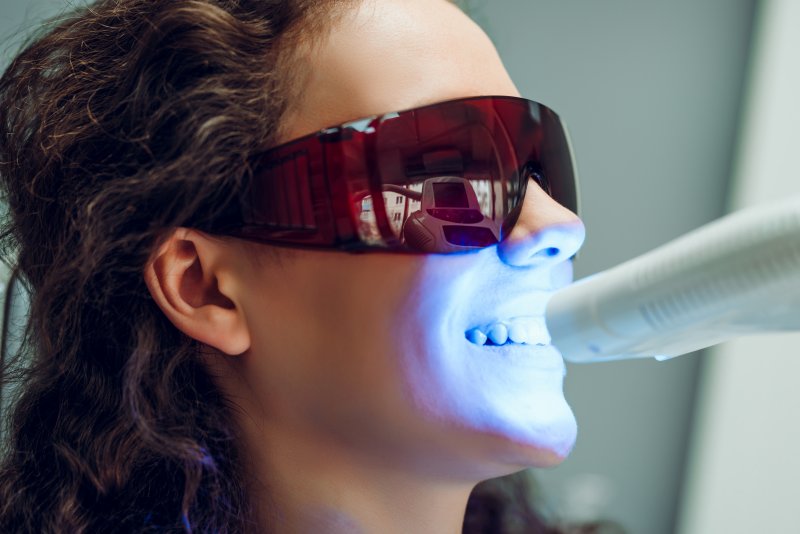 Drinks like red wine, coffee, and tea can leave unsightly stains on your pearly whites. Since a bright, white smile is what many people picture when they think of a beautiful beam, discolored teeth can negatively impact your confidence. Though there are several treatments that can be used to make your smile whiter, what causes teeth to become stained in the first place? Read on to learn about some potential causes of yellow teeth as well as how your dentist can fix them.
3 Causes of Yellow Teeth
Knowing what can cause your teeth to appear yellow may be helpful in preventing it from happening in the first place. A few common reasons for yellow teeth include:
Fluorosis – Fluoride is a mineral that can be used to strengthen teeth against decay. As beneficial as it is, being exposed to too much of it may lead to a condition called fluorosis, which may leave brownish or yellow spots on the teeth.
Visible dentin – Dentin is the naturally yellow middle layer of the teeth. If your enamel is worn down, this may allow the dentin to show through, resulting in yellow teeth.
Bruxism – This condition is characterized by rubbing together your teeth or clenching your jaw. It can occur consciously or unconsciously and is common when someone is asleep or stressed. This can cause premature enamel wear, allowing the dentin to show through your enamel.
Foods and drinks – As previously mentioned, coffee, tea, and red wine can leave stains on your smile. The same goes for cola, grape juice, and any other dark or highly pigmented foods or drinks.
How to Prevent Yellow Teeth
Though there are several ways to fix yellow teeth, it's best to do what you can to prevent them. Avoid smoking or using other tobacco products, as these can make your teeth appear yellow. You should also consume alcohol and sugar in moderation to lessen your risk of cavities and gum disease. Additionally, visit your dentist for biannual checkups and cleanings to stay ahead of oral health issues that may lead to yellow teeth.
Brushing your teeth twice daily and flossing every night will remove plaque and bacteria from your smile and keep stain-causing substances from staying on it for too long. You should also drink water after consuming any dark foods or beverages to wash them away. Additionally, using a straw will lessen the amount of contact they have with your smile.
How Your Dentist Can Treat Yellow Teeth
If the above prevention methods don't work, there are several ways that your dentist can help correct or cover up yellow teeth, including:
Teeth whitening – In-office whitening offers patients fast, dramatic results in about an hour. At-home kits allow you to whiten your smile for 30 minutes over about a two-week period.
Porcelain veneers – These thin shells cover the front surface of a tooth and require the removal of a thin layer or enamel. They are color-matched to the surrounding teeth.
Dental bonding – A composite material is used to correct the same issues as veneers, including discoloration. Bonding isn't as durable as veneers, but it costs much less.
Dental crowns – For a tooth that is severely damaged or decayed, a dental crown may be used following a root canal to improve the look and function of the affected tooth.
Yellow teeth may naturally develop over time, but that doesn't mean you're stuck with them. Speak with your dentist to learn about what treatments they offer to give you a brighter, whiter smile!
About the Practice
OakBrook Dental & Orthodontics features a friendly team of oral health professionals who are passionate about helping patients love their smiles. If your teeth are stained or yellow, they offer crowns, veneers, bonding, and whitening services to give you a gorgeous grin. To learn more about the many causes of yellow teeth and how to fix them or to set up an appointment, call OakBrook Dental & Orthodontics at (469) 526-4040 or visit their website.