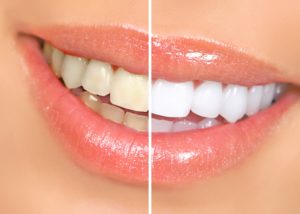 Bright white teeth are associated with youth, confidence, and success; however, few people have flawless smiles naturally. Teeth come in a variety of shades and tones. Not to mention, they change color over the years for various reasons. Understanding what causes yellow teeth is the first step to revamping your smile. Here are the most common culprits behind tooth discoloration and what you can do to eliminate stains.
Extrinsic Stains
The most common type of discoloration affects the hard outer layer of a tooth. Extrinsic stains occur when the enamel is exposed to stain-causing factors often, like coffee, smoking, or poor oral hygiene habits.
Intrinsic Stains
Intrinsic stains can be a little more difficult to treat because they originate from within the tooth structure. Certain medications or trauma can give a tooth a blue or grayish tint. However, too much fluoride can leave white spots or streaks from enamel defects.
Age-Related Stains
Enamel thins with age, causing the yellowish dentin below to show through. Not only will your teeth darken, but they'll also be more vulnerable to staining. As a result, the age-related discoloration can be a combination of both extrinsic and intrinsic stains.
Treating Tooth Discoloration
Improving your oral hygiene habits at home and using OTC whitening products can have some effect on stains, but the only way to achieve a drastic improvement is with the help of a cosmetic dentist. They'll examine your mouth to determine the source of the discoloration and learn more about your goals to recommend a solution, which can include:
Teeth Whitening
Your teeth can become up to 8 shades whiter using a professional whitening system on extrinsic and age-related stains. In a single appointment, you can achieve significant results that can last for several months or many years, spending on your aftercare routine.
Dental Bonding
Dental bonding offers a quick fix for stubborn stains using a composite resin. It's applied to a tooth to cover discoloration using a natural-looking solution. It can also be used to treat other minor imperfections like chips or cracks.
Porcelain Veneers
A veneer is a thin shell applied to the front surface of a tooth to improve its color, size, and shape. When bonded to the teeth visible when smiling, they can address several issues simultaneously, like discoloration, stains, or gaps. If yellow teeth aren't your only concern, veneers are a great option to fix multiple flaws using a minimally invasive procedure, with results that can last for 10 years or longer.
If you're ready to boost your self-esteem and take years off your appearance, schedule a consultation with your cosmetic dentist to say goodbye to yellow or brown teeth.
About Dr. Tae You
Dr. You achieved his dental degree from the University of California San Francisco and has regularly pursued higher education to provide state-of-the-art services, like cosmetic dentistry, root canal therapy, and oral surgery. He has the qualifications and experience you can trust to revamp your smile. Contact our office today to request your consultation.