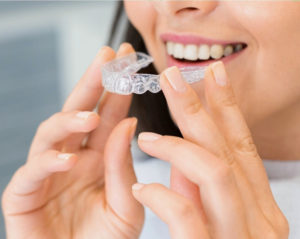 Did you miss your chance for braces as a child? Maybe your teeth have shifted over the years? No matter the reason, Invisalign is the preferred choice in orthodontics for adults. 1 in 5 orthodontic patients is over the age of 18, thanks to less noticeable treatments, like clear aligners. Although it's never too late to improve your smile, time is running out to use your dental insurance to lower the cost. If you've been waiting for the perfect opportunity to get a straight smile, this is it.
Does Dental Insurance Cover Invisalign?
Many people associated Invisalign with a hefty price tag because it was considered an elective treatment in previous years, so it wasn't covered by insurance. However, now it's commonly included in policies with orthodontia coverage. It can cost about the same as traditional braces, depending on your treatment plan.
You don't have to be rich or famous to benefit from clear aligners if you have dental insurance. After meeting your deductible, you have access to an allotted allowance for orthodontics to lower the amount you'll pay out-of-pocket.
Unfortunately, your benefits don't last forever. Your coverage resets at the end of the year, and you'll lose anything you haven't used. Nothing will carry over into the new year, and you won't be reimbursed for your premiums or deductible. As you approach the holiday season, you could lose hundreds to thousands of dollars that could be spent on Invisalign.
There's still time to schedule your consultation and start your journey to a straight smile without spending your life's savings.
How Much Does Invisalign Cost?
The amount you'll pay depends on your treatment plan. Every mouth and situation are unique, so there's not a one-size-fits-all series of aligners. After examining your mouth, your orthodontist will create a personalized strategy to fix your bite and alignment, which will affect the amount you'll pay. Although every case differs, factors that will influence your estimate can include:
Preparatory procedures
The complexity of your case
Number of arches
Dental insurance
Your dental team will work on your behalf with your insurance to maximize your benefits to lower the cost. Your orthodontist will also offer various payment solutions for any remaining balance. If you don't have insurance, don't worry. Many offices provide in-house membership plans for affordable services. Besides traditional payment methods, many dental practices also accept third-party financing. You can pay for Invisalign using monthly installments with little or no interest.
Invest in a Straight Smile Today
Although life tends to get busier towards the holidays, make the time to schedule an orthodontic consultation. You'll invest in an affordable solution to achieve the smile of your dreams to start the new year looking and feeling your best.
About Dr. Nathan Coughlin
Dr. Coughlin earned his dental degree at the University of Southern California School of Dentistry and continued his education to become board-certified in orthodontics. He works with many dental insurances and offers various payment methods to keep a beautiful smile affordable. Contact our office today to request your consultation for Invisalign.