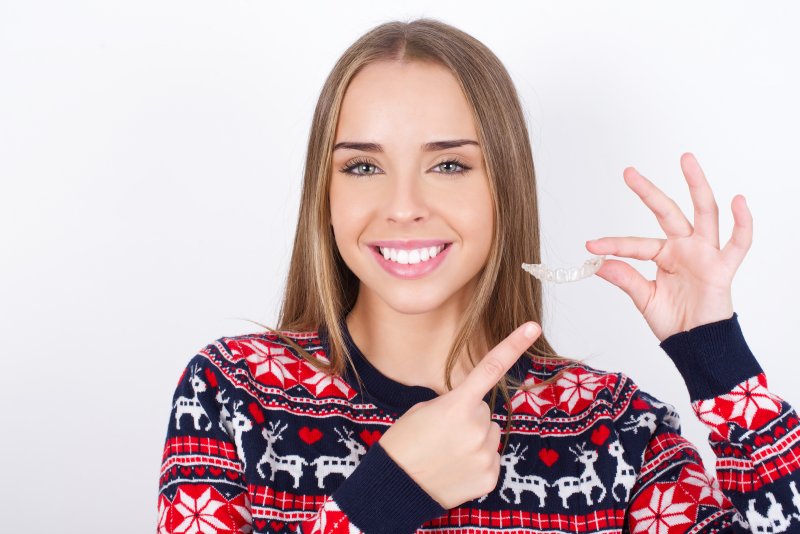 If you're like most people, the holidays are a hectic time for you. You may visit relatives, buy Christmas gifts, or host various guests. As such, it's not surprising that you might forget the smaller things this season. Still, you shouldn't let the situation derail your Invisalign treatment — doing so will delay your straight smile! That being the case, your McKinney dentist has ways to help you. Here are a few ways to stay on track with your aligners during the festivities.
Meet Your Daily Invisalign Wear-Time
For effective treatment, you need to wear your trays 20-22 hours daily; they can't align your teeth otherwise. Furthermore, not meeting this time can make the aligning process more painful. You wouldn't want that to happen, right?
That said, the holiday hustle might make you forget to wear the aligners. It's a good idea, then, to set an alarm (or two) as a reminder. The habit would quickly improve your wear time.
Remove the Aligners for Meals
At first glance, you might think it's safe to sip a warm drink without removing your aligners. The truth, though, is that this is a big mistake. When hot liquid touches your trays, it damages their structure and thus upsets your treatment. In fact, it could bend your aligners out of shape and make your teeth move in the wrong direction.
Given these facts, always remove your trays when you eat or drink.
Clean Your Teeth After Eating
Whether you're drinking cocoa or eating cookies, it's crucial that you brush and floss your teeth after every meal. If you don't, leftover food bits will get stuck beneath your aligners. From there, they'll increase your risk of tooth decay, cavities, and bad breath.
To make this cleaning easier, always carry a travel-size toothbrush, toothpaste, and floss with you. You can also include a tiny bottle of mouthwash for a post-meal rinse.
Keep Your Invisalign Case Handy
If and when you do take off your aligners, make sure to store them in a case. Placing them in a napkin could lead to their being mistaken for trash. This mistake would be simple, but it'd still delay your treatment. Therefore, keep your Invisalign storage case with you at all times.
While the holidays are a happy time, don't let them distract from your Invisalign goals. Instead, follow the tips above to enjoy the season while straightening your smile!
About the Practice
Oakbrook Dental & Orthodontics is based in McKinney, TX. As led by its many great dentists, our practice provides excellent dental care for all ages. To that end, we perform preventive, cosmetic, and restorative treatments, not to mention emergency procedures. Our office is also a certified provider of both traditional braces and Invisalign clear aligners. For more information or to book a visit, you can reach us on our website or by phone at (469)-526-4040.