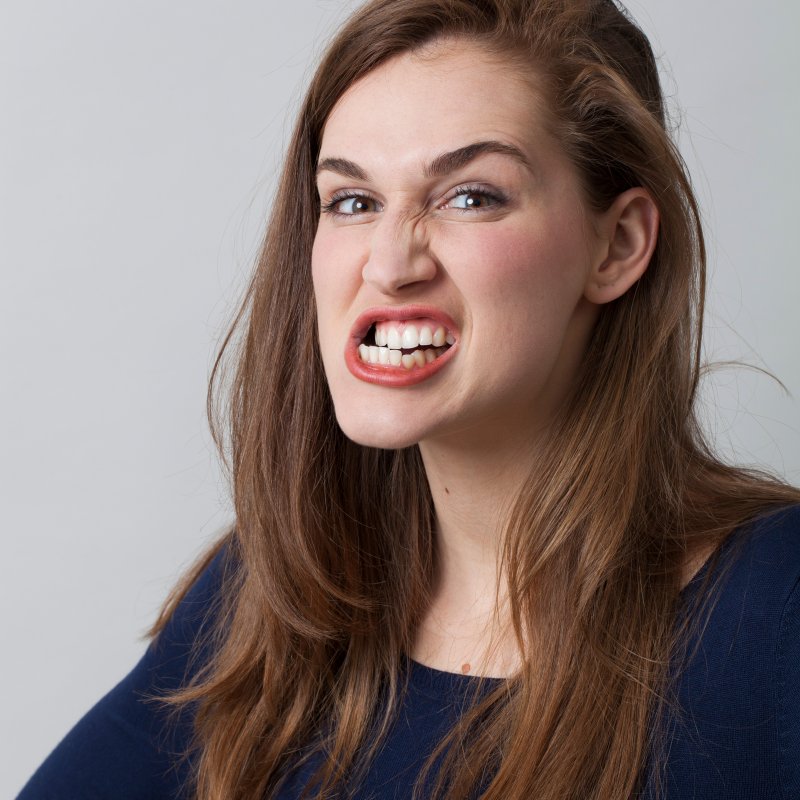 Like many people, you may grasp that tooth stains age your face. It makes sense in hindsight – a dirty, yellow smile can seem haggard and worn out. That said, did you know that teeth-grinding makes you look older too? Indeed, a short, flat tooth can appear as aged as a yellow one. Still, there is hope: your local dentist can help you keep this habit in check. To that end, here's a summary of how grinding teeth ages you and ways to prevent it.
How Does Grinding Your Teeth Age You?
Overall, grinding your teeth ages you in two ways. The first is by making your teeth visibly shorter and flatter. Meanwhile, the second is by causing facial sagging.
Short, flat teeth look worn out. It's natural that they do – they've lost much of their enamel. The result is that your pearly whites seem as if they've weathered many years.
Adding insult to injury, the tooth erosion caused by grinding also causes your face to sag. Your lips, for example, might start to sink inward while the distance between your nose and chin shortens. Naturally, these changes can make you seem older than you really are
How Can You Fix the Issue?
Fortunately, it's possible to prevent grinding's age-related effects. Just remember to do the following things:
Wear a Night Guard
While no known cure for bruxism exists, you can control its damage. A nightguard would dissipate the force of your grinding through itself. As a result, you'd keep your teeth from undergoing excess wear and tear.
If possible, try to opt for a dentist-made nightguard instead of over-the-counter varieties. Unlike the latter, the former would be custom-made and perfectly fit.
Avoid Certain Foods
Certain foods can worsen the effects of grinding by wearing your teeth down. That being the case, try to avoid risky ones like:
Nuts – Shelled nuts are so hard they can chip or fracture teeth.
Citrus Fruits – Citrus fruits are high in acids that erode enamel.
Peanut Butter – Sticky, sugary peanut butter can cause plaque buildup and tooth decay.
Dried Fruits – Dried bananas, oranges, or apples have sugars that stick to teeth and cause decay.
Visit Your Dentist Regularly
As you might know, checkups let a dentist fix dental issues before they worsen. In attending them, then, you could get treatment for the early signs of grinding. This service might involve a nightguard (see above), a relevant therapy, or another method.
With a dentist's help, in other words, you could keep grinding from drastically aging your face.
In the end, teeth-grinding ages you only if you let it. Therefore, book a visit with your dental provider to correct it soon.
About the Practice
Oakbrook Dental & Orthodontics is based in McKinney, TX. Led by its many great dentists, our practice offers comprehensive dentistry for all ages. As such, we perform high-quality preventive, cosmetic, and restorative treatments, as well as emergency dental care. Our office also prides itself on being a certified provider of custom nightguards. For more information or to book a visit, you can reach us on our website or by phone at (469)-526-4040.