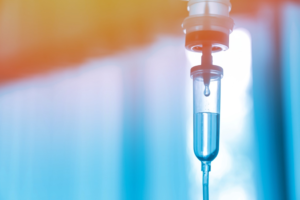 If you'd rather be anywhere else in the world than seated in your dentist's chair, you aren't alone—in fact, it's estimated that roughly 22% of all people skip their dental appointments simply because they're afraid of dental work! Thankfully, modern dentistry continues to evolve, and there are now several available options for assisting patients with peacefully undergoing treatment. Here's more about one of these options, IV sedation, and how it can make your next visit a pleasant experience.
Breaking Down IV Sedation Dentistry
In short, IV sedation is a form of conscious sedation that's designed to help patients feel incredibly relaxed and at ease during their appointment. It's important to distinguish that this method does not put you fully to sleep—however, it does make you much less aware of your surroundings, including anything your dentist or their team might be doing to your mouth! Needless to say, this makes it much easier for all parties involved when it comes to completing dental work.
Additionally, patients are still able to respond to verbal commands or gentle nudging, and you won't require any assistance with breathing. The sedative is administered intravenously (through your vein) and begins working quickly; the dosage can easily be adjusted, and your vitals are also monitored the whole time.
The Ideal Candidate for IV Sedation
Even though it's a commonly accessible solution, IV sedation isn't administered to just anybody. Potential candidates need to undergo a health evaluation, including a review of their medical history and medication use. Older patients or those with certain considerations might need to visit their primary physician before they're eligible for IV sedation. Generally, good candidates for IV sedation include:
Relatively healthy individuals with moderate to high dental anxiety
Patients who are highly sensitive to pain
Those who require more complex dental work or multiple procedures
Those with a strong gag reflex
Preparing for IV Sedation
If you're planning to receive IV sedation, here are some things to keep in mind before, during, and after your visit:
Follow any and all instructions provided by your dentist before your appointment; you'll usually be recommended to wear comfortable clothing and avoid eating or drinking anything the night before sedation. You also might need to stop taking certain medications, and you'll need someone to take you home after your appointment.
During your visit, you might need to receive other medications such as pain relievers or anti-inflammatories in addition to the sedative.
Following your visit, you might feel drowsy for a few hours, and you'll be instructed on how to navigate the next day or two. Complications with sedation are rare, but be sure to avoid strenuous activity, unapproved medications, alcohol, or operating heavy machinery. Don't hesitate to contact your dentist if you suspect any problems.
Ultimately, your dentist will know best if IV sedation is a good choice for you. That said, at face value, the option is undeniably useful, accessible, and certain to help you achieve greater oral health in a much more comfortable manner!
About the Practice
The team at OakBrook Dental & Orthodontics is honored to serve the needs of patients and families in the McKinney, TX community. The practice is fortunate to house four incredibly skilled and knowledgeable dentists: Dr. Nathan Coughlin, Dr. Manhvu Nguyen, Dr. Vinhson Nguyen, and Dr. Stephanie Weng. They're thrilled to offer a comprehensive range of services including different sedation dentistry options. If you have any questions about the article or would like to arrange a visit, you can contact the practice online or over the phone for further information or assistance: (469) 331-4748.