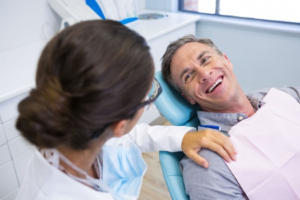 Root canals have an unfair reputation! Despite what you've maybe heard through the grapevine or seen on television about the procedure, root canal therapy isn't scary or incredibly painful at all. In fact, it actually gives your compromised tooth the best possible odds of remaining inside of your mouth, where it belongs. That said, many patients who are set to undergo the procedure still have concerns about pain afterward. Here's what your dentist wants you to know about this process and some of the possible causes for discomfort following it, as well as when you seek professional assistance.
A Closer Look at Root Canals
If your dentist has determined that a root canal can be used to salvage a compromised tooth, the first step of the process is numbing your mouth to ensure that no pain is felt. Your dentist will then make a small opening in the tooth to clear out the infected pulp, before cleaning out the inside and sealing the tooth back up with a protective dental crown. It's a fairly straightforward process that has been used to save damaged or decayed teeth for quite some time.
What to Expect During the Recovery Period
In the past, root canals were painful, which is likely part of why they continue to have an unfavorable reputation today. But thanks to modern advancements in dental technology, patients today don't have to worry about pain. Dentists now have pain-relieving and anxiety-curing solutions to ensure that you feel great throughout every part of the process. You might feel some pressure during the cleaning, but otherwise, you won't be in any actual pain during the root canal itself!
Following a root canal, it's normal to experience some fleeting pain and discomfort for a few days as your body heals. Since this pain is typically mild, it can usually be handled with over-the-counter pain relievers and cold compresses, and your dentist can also provide you with additional instructions and tips pertaining to things like your diet. You might even partake in stress-relieving exercises to alleviate your discomfort; ultimately, though, it should not be debilitating.
When You Should Call Your Dentist
Root canal discomfort should decrease over time, but if you're experiencing pain or swelling that lasts for more than three or so days, you should contact your dentist. For most patients, their pain alleviates soon after their root canal as long as they follow their dentist's instructions and keep their mouth clean.
According to the American Association of Endodontists, you're roughly six times more likely to be pain-free if you undergo a root canal versus not receiving one, meaning that pain should be the last thing on your mind when considering the procedure!
About the Practice
The team at Oakbrook Dental & Orthodontics is proud to provide patients and families in the McKinney, TX community with an excellent level of dental care. They're thrilled to offer a wide range of services aimed at helping patients achieve optimal and lasting oral health. If you have any questions about the article or you'd like to arrange a visit for you or someone you know, feel free to contact the practice online or over the phone for further information or assistance. Telephone: (469) 526-4040.