Full Mouth Replacement – McKinney, TX
Rebuild a Complete, Healthy Smile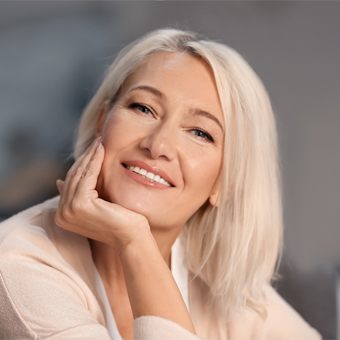 Has trauma, gum disease, or other circumstances robbed you of all or most of your teeth? Living without a complete smile can subject you a number of difficulties on a daily basis, and it puts you at risk for long-term oral and overall health issues. That is why we urge you to visit us to talk about full mouth replacement in McKinney. Our team may be able to use dental implants to help you permanently regain your lost teeth so you can once again enjoy sound oral health and a confident smile.
---
What Can I Expect from Full Mouth Replacement?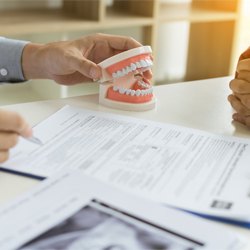 Your full mouth replacement journey begins with a consultation with our team. We'll evaluate your oral health, talk to you about your goals and expectations, and design a treatment plan. Reversing tooth loss with dental implants may take several months to a year. Some of the steps along the way typically include:
Preparatory work, such as extractions or a bone graft
The implant placement surgery, followed by a healing period of a few months
Design and placement of the final restoration (denture)
After your final restoration is in place, you can expect to enjoy a strong, comfortable bite that is superior to anything a traditional denture could offer.
---
Implant-Retained Dentures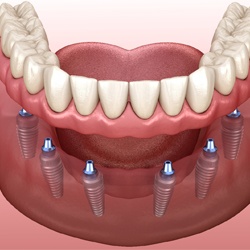 An implant-retained denture is a dental prosthetic that replaces an entire arch of missing teeth. While a traditional denture relies on a mild adhesive or natural suction to remain secure in the mouth, an implant-retained denture is anchored in the jawbone via several strategically placed dental implants. Some implant-retained dentures are permanently fixed in place; we will remove them only when you visit us for your professional dental cleanings. Other implant-retained dentures are removable; they simply "snap" onto and off of the implants that support them.
---
All-on-4 Dental Implants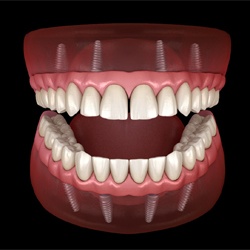 As its name implies, the All-on-4 procedure can replace an entire arch of teeth with as few as four dental implants. We place the implants where the jawbone is naturally thickest and strongest, which often eliminates the need for a bone graft. Patients receive a temporary denture to go on top of their implants on the same day as their placement surgery. However, a waiting period of a few months is still necessary before we can design and attach a permanent restoration.
---
Am I a Candidate for Full Mouth Replacement?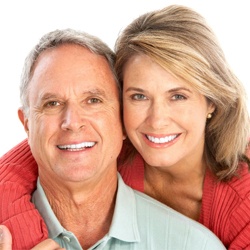 You may be a candidate for full mouth replacement with dental implants if:
You have lost all or most of your teeth
You have adequate density and height in your jawbone to support dental implants
You don't have any serious oral or overall health conditions that could affect your ability to heal after surgery
To find out for sure whether you are a candidate for full mouth replacement, contact our team to schedule your dental implant consultation. We look forward to helping you rebuild your smile!